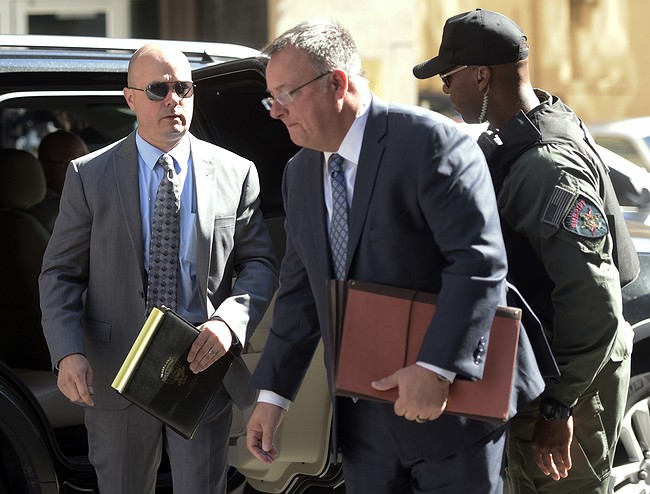 The most senior Baltimore police officer to face trial for the death of Freddie Gray was acquitted of all charges Monday, in a case that sparked riots and fueled a national debate over police treatment of black Americans.
A Baltimore judge presiding in the bench trial acquitted Lt. Brian Rice of involuntary manslaughter, reckless endangerment and misconduct in office, report the Washington Post and the Baltimore Sun.
Baltimore City State's Attorney Marilyn J. Mosby announces that criminal charges will be filed against Baltimore police officers in the death of Freddie Gray on May 1, 2015 in Baltimore, Maryland.
Prosecutors in this latest trial argued that, as the ranking officer, Rice had a duty to make sure that Gray was buckled during the ride and did not-instead he was shackled, handcuffed, placed in the backseat without a seatbelt, and driven around the city before being discovered at a police station unresponsive and not breathing, eventually dying a week later of a spinal injury.
Rice is the fourth of six officers to stand trial in the case.
Warren Alperstein, a Baltimore defense attorney who attended the trial as a spectator, said he was "not surprised by the verdict whatsoever".
Since the outbreak of mass protest over police violence the Obama administration has feigned support for the victims of police violence while at the same time fully backing the military-style police quashing of protests in Ferguson, Missouri and Baltimore.
The controversy took a further tragic turn when eight police officers were shot dead in apparent reprisal attacks staged by lone black gunmen in Dallas and Baton Rouge, Louisiana.
Jude Williams ruled that state prosecutors had failed "to show that the actions of the defendant rose above mere civil negligence".
"This has been a very hard time for our city, and I thank the community for their patience during this time and ask their continued respect for the judicial process as we move forward", she said.
Multiple medical experts were called upon during Rice's trial, and Dr. Matthew Ammerman stated that Freddie Gray died shortly before the police van made its final stop. And, it did not show Rice acted "corruptly", which is required for misconduct in office, he said.
Prosecutors said Rice acted negligently by failing to place Gray in a seat belt. She said Rice will still face administrative review, despite the outcome of the trial. The first trial in this case was that of Officer William Porter which ended in a mistrial when the jury informed Judge Williams that it would not be able to reach a unanimous verdict.
Rice went into the trial facing five charges, but just before opening statements, prosecutors dropped a misconduct charge related to Gray's arrest without explanation.
In addition to Porter's retrial, Officer Garrett Miller is scheduled for trial later this month, while Sergeant Alicia White's trial is set for October. Of the six officers charged in the racially charged case, three are white and three are black. Officer Edward Nero was also found not guilty of all charges.
Prosecutors and defence lawyers in the case are barred from commenting by a gag order from Williams.