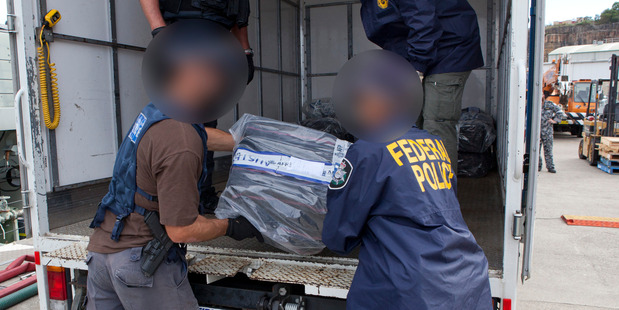 The AFP said the arrests marked the end of a joint two-and-a-half year investigation into an alleged drug network, described as a "transnational" operation.
Officers intercepted the yacht last Thursday and seized the cocaine, wrapped in black bags.
A 63-year-old New Zealand man and a 54-year-old Swiss-Fijian dual national who were on board the yacht were taken into custody, while four men aged between 32 and 66 were arrested in Sydney.
Six people were arrested, including a man believed to have worked at a St Georges Basin maritime training facility.
Six men have been charged with serious drug importation offences after police seized a record-breaking 1.4 tonnes of cocaine from a sailing vessel off the NSW coast.
. "The interception of this huge volume of drugs and the charging of these six men is a testament to the officer's drive and determination", he said.
"It also highlights the importance of our close working relationships with our local and internal law enforcement partners - without which this operation could not have succeeded".
It was the second major drug bust in Australia in recent months, after police seized 500kg of cocaine in a Sydney Fish Market on Christmas Day.
The drugs were destined for Australia, but authorities feared some may have entered New Zealand, Customs' deputy comptroller operations Bill Perry said.
The operation was spurred by New Zealand intelligence, about a plan to import a vast amount of cocaine into Australia, and shared with Australian Customs in August 2014.