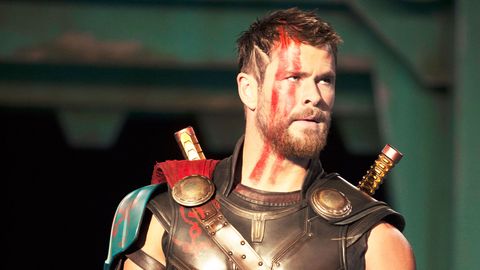 What the folks at Marvel have now revealed is what critics are calling one of the best Marvel film trailers ever.
The first Guardians of the Galaxy tends to be near the top of most people's rankings of all the Marvel movies, in part because it's fun, '80s-inspired space opera proceedings were a breath of fresh air. The Disney-owned comic book studio released the first trailer for its upcoming Thor sequel yesterday, and it looks like an amusing, visually resplendent jaunt around alien worlds-you know, exactly like Guardians of the Galaxy.
In the recently released trailer for Thor: Ragnarok, we see Hulk, dressed in awesome gladiator gear, go toe-to-toe with the God of Thunder. As if that's not trouble enough, Hela (Cate Blanchett), the Asgardian goddess of death has accidentally been freed and takes over.
But the Hulk was in a fighting mood and charged at Thor anyway, and the two Avengers geared up for a heavy blow. And since he was seen taking over Odin's throne at the end of Thor: The Dark World, what role does he play in Hela's attack on Asgard?
During the same interview, Blanchett also shared the reason why she chose to take on the role as Hela in Thor: Ragnarok. However, Bank's "stolen style" joke doesn't really make any sense because Hela's always had her dark green look in the comics.
Behind Jeff Goldblum, who portrays the Grandmaster, there appears to be a facility that has a striking connection to The Collector's fortress that is being built in Anaheim. Naturally, his return in "Thor: Ragnarok" is much anticipated, and the excitement has reached a record-high after a teaser was released, showing there's a lot to be ecstatic for.
Thor: Ragnarok hits theaters on November 3, 2017. Yeah, if you could not help laughing at Thor's reaction when the Hulk lands, we do not blame you, we did the same!