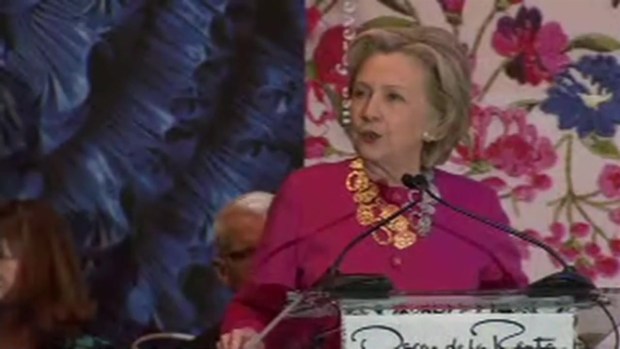 The Women in the World conference in NY was the first public interview given by Clinton since she lost the Presidential Election.
While Clinton said there were "lots of contributing factors" to her failure to secure the nation's highest office, she called Russia's interference the "weaponization of information". "And I also hope that they will recognize that we can not in one breath speak of protecting Syrian babies and in the next close America's doors to them". "I assumed by now Hermione would have returned to her rightful home at Hogwarts, where she's rumored to be the new Defense Against the Dark Arts professor", she said.
"There are things we could have done better", Clinton said.
During the on-stage interview with New York Times columnist Nicholas Kristof, Clinton said sexism was partially to blame for her defeat. Otherwise, "they will be back", she said. Plus, "he's not exactly fond of strong women". She said he is always trying to "advance himself, his oligarch companions and his country - in that order".
"By the time they finished with me, I was Typhoid Mary", she said, attributing her sharp decline in popularity to sexism directed against women who display ambition.
"Although he did shake hands with me", she joked in an apparent reference to President Trump's refusal to shake hands with German Chancellor Angela Merkel. "I and women across the world really owe Hillary Clinton a debt of gratitude". In the first weeks, she largely disappeared from public view, walking in the woods outside her Chappaqua, New York home. "Certainly misogyny played a role", Clinton said.
Lastly, Clinton blamed misogyny for her loss - an unexpected end to a long journey and one she described as "devastating".
While stating at the beginning of her remarks that she was concerned about what was going on in the country, she acknowledged a slightly different reaction while watching the attempt to repeal the health care bill flounder.
Clinton shot down talk that she would run for anything else, saying she knows she will do "interesting things, but I don't think that will include running for office again".
In her first postelection interview, Clinton alluded to the pain of her loss of the presidency to Donald Trump, hinting that there were times she didn't want to get out of bed.
'As a person, I'm OK.