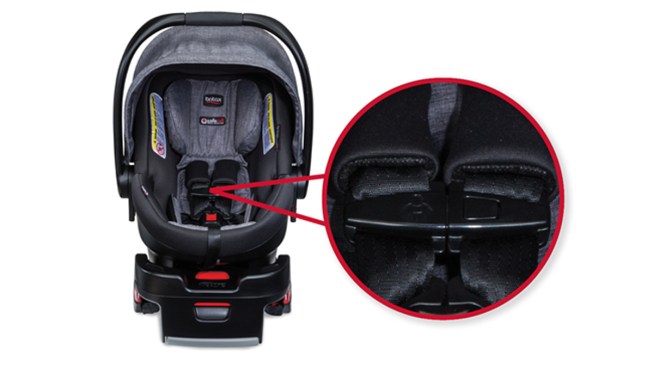 The recalled models include the Britax B-Safe 35, B-Safe 35 Elite and BOB B-Safe 35 with manufacture dates from November 1,2015 to May 31,2017.
Britax is recalling child safety seats that have a center tab on the chest clip marked "ABS" that may break.
The recall was issued because the center tab on the vehicle seats' chest clip can break, potentially causing a choking hazard to the child using it.
The company notes that the infant auto seats remain safe in a crash, and that while the term "recall" is being used, the entire seat does not need to be replaced. Owners can also call the National Highway Traffic Safety Administration at 888-327-4236 or visit www.safercar.gov for more.
Britax is offering kits with step-by-step instructions and a replacement chest clip to all consumers who have affected vehicle seats.
A document and a video on the Britax website both explain how to switch out the clip for the replacement.
Britax said no choking injuries have been reported.
The NHTSA has received two complaints of the clips failing since the beginning of June.