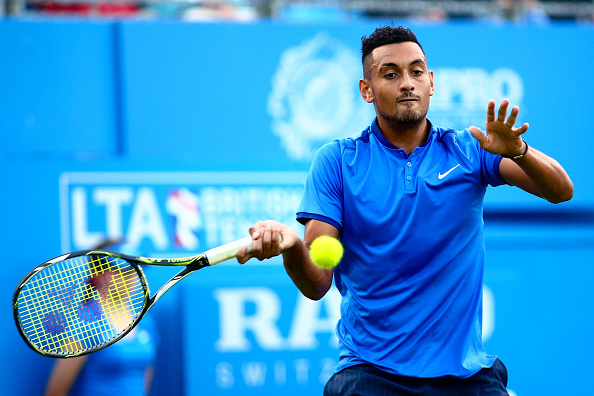 Nick Kyrgios retired with an injury after losing the opening set 7-6 (3) to Donald Young in the first round at Queen's on Monday, the latest setback for the Australian player.
World number 20 Kyrgios slipped and fell on the lush grass with the score at 4-4 in the first round of the Aegon Championships against the world number 55 American Young.
After losing a tiebreaker 7-3, the ninth-seeded Kyrgios headed straight for his bag, put away his racket, shook hands with Young and walked off.
But Kyrgios, who has also been bothered by shoulder problems in recent months, is still determined to compete at Wimbledon, which gets underway on July 3.
"I don't really have time to go home or anything". I'm sure I'll live.
'I had the injections a couple of weeks ago, then I was in rehab for a couple of weeks and it settled down and then on that fall I just felt sharp pain so I felt everything I was pretty much feeling a month ago.
'I've been playing with a sore hip for a long time and it just felt it was painful and it's not really worth it [to carry on].
"I'd play Wimbledon if I was injured pretty bad, anyway". "I started feeling it when I was walking, when I was landing on my serve. It's not great at the moment", he said.
The world No. 20 is defending fourth-round points at Wimbledon, where he lost previous year to eventual champion Andy Murray. "Obviously my main goal is to play well at Wimbledon so I'm going to try and get it better and rehab it and hopefully it settles down".
"Dog and Fox", he said in a reference to one Wimbledon Village's most famous pubs.
Young, who came across to check on Kyrgios as he lay prostrate on the court, said he felt sympathy for his opponent. "Especially on surfaces like grass and clay-it's not for sure certain footing".
Jo-Wilfried Tsonga got back on track after his French Open nightmare as the world No. 10 eased to a 6-2, 6-2 win over Adrian Mannarino.
Grigor Dimitrov made light work of Ryan Harrison 6-3 6-1 and Denis Shapovalov overcame Kyle Edmund 7-6 (7-4) 4-6 6-4, while Tomas Berdych found the going tough against Steve Darcis.