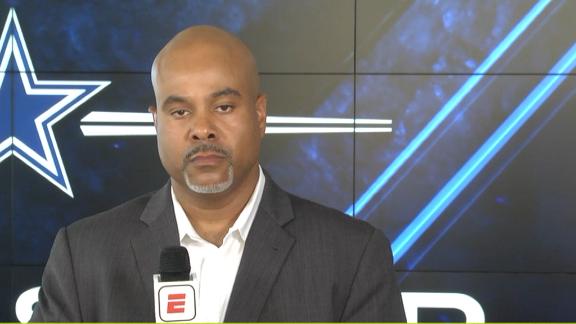 The Cowboys owner reportedly wanted his players to see the business side of football, and how protesting during the anthem could affect TV ratings and sponsors.
Some Cowboys players were shocked to hear that they're owner, who not only donated 1 million to Donald Trump's campaign but considers the president a personal friend, and who took a knee with them that one Sunday before the national anthem was played, is still an old bigot.
The national anthem protests appear to be coming to a head, with the NFL telling teams they have a proposal to move past the protests and begin focusing on highlighting players' work on social issues.
One player said Jones expected the Cowboys will continue to stand during the anthem.
In the two games since, the players have stood on the sideline with no one kneeling. While NFL teams are private businesses and not covered by the First Amendment, the use of publicly-funded stadiums and acceptance of government funding for pregame patriotic displays could bring legal liability.
I can't wait until @jemelehill gets a platform in which she can give her unfiltered opinion.
"This is a workplace issue", Jones said.
On Wednesday, Detroit Lions safety Glover Quin, the team's NFL Players Association representative, didn't want to talk much about Jones or potentially being required to stand for the anthem.
Wade Rathke, chief organizer of Local 100, said that Jones' threat violates the National Labor Relations Act of 1935, which allows employees "to engage in protected concerted activities for the objective of collective bargaining or other mutual aid or protection". According to multiple reports, Jones met with players to discuss his stance and most players still in the locker room after the meeting told reporters they had no comment, although, per Clarence Hill of the Fort Worth Star-Telegram, cornerback Orlando Scandrick did pull out a pair of pink cleats for breast cancer awareness to note "they are allowed support". "That's not why they're kneeling, but if it were, that would be something that would clearly be a protected activity". The law here is that you have the ability to act with your co-worker.
But those political motives of kneeling likely would not protect the players from discipline.
Stewart J. Schwab, Jonathan and Ruby Zhu Professor of Law, Cornell University: "The player who does not stand can be [accused of] conduct detrimental to the public confidence in the NFL".