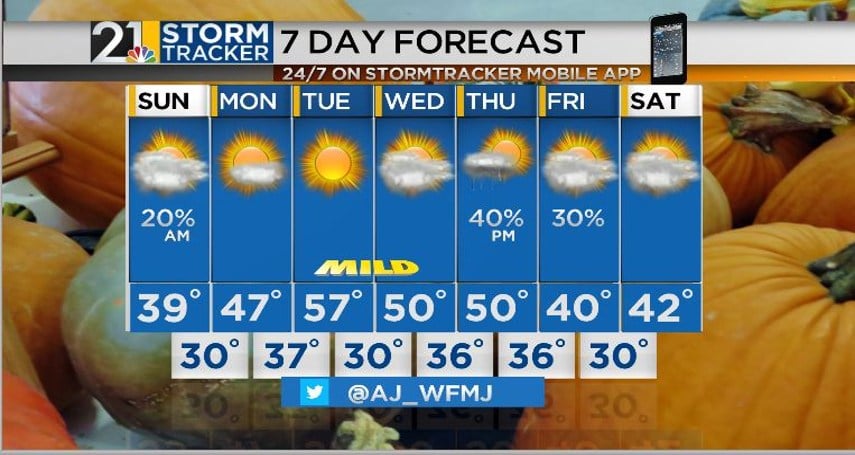 Tuesday: We keep the warmth and sunshine going. Temperatures will rebound during the day.
You probably don't need me to tell you to wear a warm coat if you're heading out this morning for those doorbuster deals.
Tonight: Mainly Clear. Lows in the mid 30s.
Sunday, expect a chilly start to the day.
Monday and Tuesday looks attractive with plenty of sunshine in the forecast and highs in the upper 60s.
That cold front will also usher in some cooler air.
The high pressure system that brought us sunshine and cooler temperatures today will bring us mild and sunny weather through the first half of the week. Our next chance for rain isn't showing up until around the middle of next week. We'll have lows in the 30s and highs in the 50s. Highs on Friday stay in the upper-40s.
The forecast for the game in Auburn calls for a few clouds with temperatures falling from around 64 at kickoff to near 55 by the end of the game.
Wednesday, temperatures will be back to the mid to upper 60s with attractive, sunny skies. Some snow may mix in Thursday night as temperatures drop to near freezing. Skies will be dry until our next big weather maker moves in on Tuesday.
Monday will still be very warm day heading back to work and school with highs in the 70's to even low 80's, which should be close to record highs.