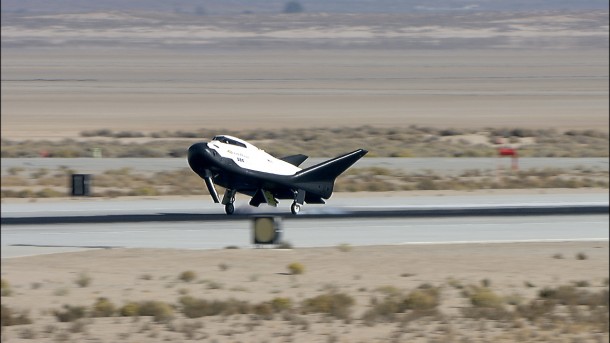 The Dream Chaser had a attractive flight and landing! Saturday's test was of a full scale version of the spacecraft that was dropped from a helicopter to descend and land on its own.
While he says the flight data is preliminary, Lindsey was very optimistic about the future landing capabilities of Dream Chaser, which he expects will roll out a little farther than the flight test. Currently Orbital ATK and SpaceX run resupply missions to the ISS, but those contracts are up come 2018, leaving room for Sierra Nevada to swoop in.
Dream Chaser is a derivative project from NASA's 1990s HL-20 Launch System, which in turn was inspired by the Soviet Spiral program, a series of spacecraft developed for space warfare and orbital-glide bombing since the late 1960s.
The unmanned aircraft made a soft landing at Edwards Base last Saturday during the free flight test at the Armstrong Flight Research Center of the National Aeronautics and Space Administration (NASA). SNC is working to find other customers not only for cargo, but for using Dream Chaser as a space laboratory for 2-4 week periods and launching people into space.
Sierra Nevada Corporation (SNC) conducted a successful free flight of its Dream Chaser spacecraft this weekend. According to SNC, the test article included orbital vehicle avionics and flight software for the first time to provide orbital vehicle design validation.
The company performed a tow test on the vehicle a little bit over two months before the free-flight test. During a captive carry test, a helicopter lifts the spacecraft and lets it practice its moves. The Dream Chaser from Sierra Nevada offers more reliable landings than the other two now offer. Since then, Sierra Nevada has been modifying the Dream Chaser to just carry cargo. The Dream Chaser, however, which is meant to launch on top of an Atlas V rocket, glides down to Earth like a plane after reentering the atmosphere, landing horizontally on a runway. It will sport an expandable cargo module at the rear that will feature solar panels and a docking mechanism. "This advances our program and the Dream Chaser towards orbital flight, while meeting the final milestone for our NASA CCiCap [Commercial Crew integrated Capability] agreement and supporting milestone 5 of the CRS-2 contract".