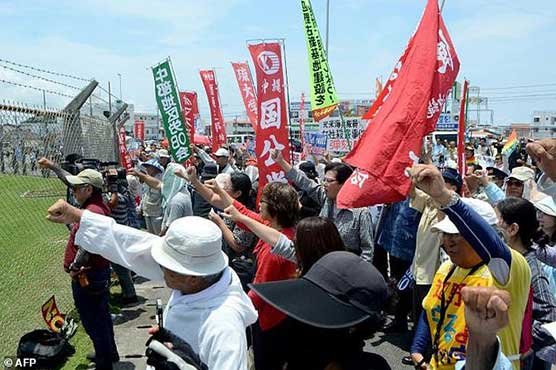 Kenneth Franklin Shinzato was sentenced to life in prison on Friday for the rape and murder of a 20-year-old Japanese woman, USA Today reported.
Kenneth Franklin Shinzato was found guilty of assaulting and killing a 20-year-old local woman last year.
He took her to a grass field where he suffocated her and repeatedly stabbed her around the neck, according to prosecutors, who demanded a life sentence. He pleaded guilty to the charges of rape resulting in death and abandoning of the body, but denied murder intent.
He was a civilian working for an internet company on the premises of Kadena Air Base at the time, after serving as a U.S. Marine from 2007 to 2014, according to his lawyers and the U.S. Defense Department.
The incident prompted deep outrage among locals and renewed calls for United States bases to be removed entirely. The plan developed after a military aircraft accident near the current base and the 1995 rape of a girl by three American servicemen enraged Okinawans, but has since made little progress due to protests.
The killing, which drew the attention of Japanese Prime Minister Shinzo Abe, overshadowed Barack Obama's trip to the country a year ago, during which he visited Hiroshima.
Half of about 50,000 American troops stationed in Japan are on Okinawa.
The Marine, Nicholas James McLean, was arrested for the crash and for driving under the influence of alcohol. In 1995, mass anti-U.S. protests erupted on the island after a 12-year-old schoolgirl was raped by three USA service members.
Last month, the U.S. military imposed an alcohol ban on all its troops in Japan after an Okinawan man was killed when his vehicle was struck by a truck being driven by a U.S. Marine in Naha, the prefecture's capital. The U.S. military responded by imposing a drinking ban for personnel in Japan on or off base.