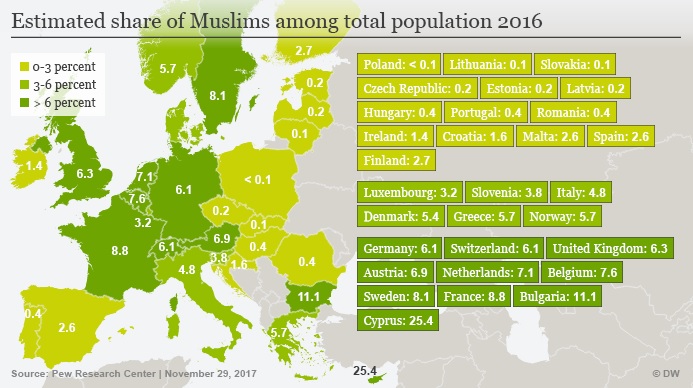 In the high migration scenario, Germany and Sweden would have the biggest increases because both countries took in the most asylum-seekers during the height of the refugee crisis two years ago. "Levels of religious commitment and belief vary among Europe's Muslim populations", the report said. Under Pew's "high" migration scenario, Muslims could make up 30.6% of the population of Sweden, 19.9% of that of Austria, 19.7% of that of Germany, 18% of that of France, 17.2% of that of the United Kingdom, 18.2% of that of Belgium, 17% of that of Norway, 16% of that of Denmark, 15.2% of that of the Netherlands, and 14.1% of that of Italy. In this scenario, Muslims will make up an estimated 14% of the continent's population in the space of 33 years, almost tripling their current share of the population.
But even if the number of Muslims triples over the next 32 years, Muslims will still be a small minority compared to Europe's Christians.
The Pew Study outlined three predictions for what could happen to Europe's Muslim population over the coming years.
A new report by USA nonpartisan think tank Pew Research Center projects a dramatic rise in the Muslim population in many Western European countries over the next several decades, from about 5% of the continent now to up to 14% by 2050.
Using the high scenario, Germany would have the largest Muslim population, 17.5 million, because of the large number of refugees it has accepted in recent years.
France has the highest percentage of Muslim residents in Europe, with Muslims making up around 8.8 percent of the population.
Europe's Muslim population to grow strongly PARIS: Muslims could make up over 11 percent of Europe's population in the coming decades, compared with just under 5 percent now, if legal migration levels are maintained, a report by a US-based think tank said on Thursday.
A revealing survey by Pew Research Center, "Europe's Growing Muslim Population", looks at the future of the 25.8 million Muslims now residing in European countries.
Europe received more than one million migrants and refugees in 2015, according to figures from the UN's refugee agency. Even if all current 28 European Union members, plus Norway and Switzerland, closed their borders to migrants, the Muslim population constituent in the west would continue to grow because of a younger age profile and higher fertility rates, but would remain very low in the east.
Eastern Europe, meanwhile, is projected to have a low Muslim population of no more than 4.5% in any one country, with the exception of Bulgaria, where Muslims already comprise over 10% of the population, for historical reasons.
Migrants arriving in Munich, September 2015. Even with "high" migration, Poland's Muslims are expected to total no more than 60,000.
The study would also appear to give the lie to some claims from Europe's far-right, which has been gaining ground in several countries.
Hungary received among Europe's highest numbers of asylum applications from Iraq and Syrian refugees between 2010 and 2016.
Under that scenario Muslims would account for 14 percent of Europe's population in 2050, which Pew said was "still considerably smaller than the populations of both Christians and people with no religion".