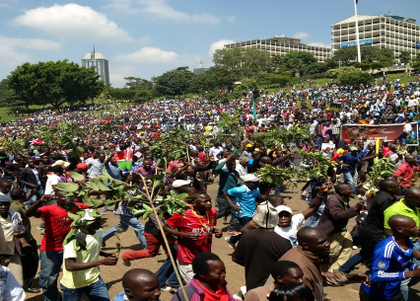 Supporters of opposition leader Raila Odinga hold aloft a Kenyan state insignia which they took down from a street and brought with them, at a mock "swearing-in" ceremony at Uhuru Park in downtown Nairobi, Kenya, Tuesday, Jan. 30, 2018.
Thousands gathered in Nairobi's Uhuru Park to watch Mr Odinga take the ceremonial oath of office in the face of global pressure and security concerns.
It would be recalled that Odinga had declared that he will not recognize a win by President Uhuru Kenyatta in the controversial repeat poll that was held a year ago in October 26, which Odinga boycotted.
Some are hoping Tuesday's event will push Kenyatta, who promised to work toward national unity during his second term, to include opposition leaders in dialogue and in his ministerial appointments.
Mr. Kenyatta warned media not to cover the unofficial swearing-in event, with the chief prosecutor describing the ceremony as tantamount to treason. The Nasa leader said he would not read his speech, promising to give copies to the media as he was quickly shepherded out of Uhuru Park. Odinga's growing popularity among its supporters is quite obvious especially that he is depicted as the only legitimate Kenyan President.
Despite the much anticipation given to the event, the Co-principals were conspicuously missing in action, most importantly the expected deputy Kalonzo Musyoka. He said Kalonzo will take the oath later. The opposition claims hundreds were killed and accuses the government of suppressing reports of the true carnage while dumping body bags into mass graves.
Kalonzo had earlier condemned Communications Authority for shutting down national TV stations KTN News, Citizen and NTV at a time when Kenyans were supposed to witness historical event.
Since boycotting the re-run poll, citing a lack of reform at the election commission, NASA's strategy has been to challenge Kenyatta's legitimacy by seeking to establish parallel government structures.
Mombasa residents want NASA leader Raila Odinga to name his Cabinet as soon as possible. Many linked the block to an alleged meeting that took place in the president's office which was attended by media managers and select editors from the main media houses. Violence following the court's decision resulted in the death of 40 persons.