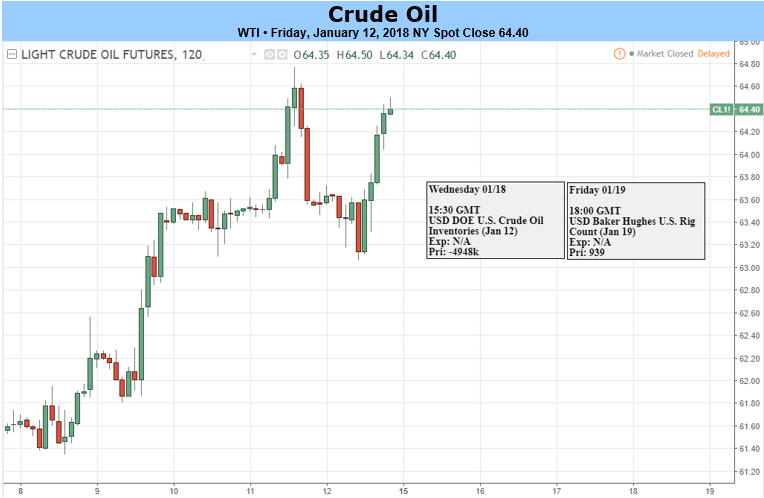 US crude rose 20 cents to $61.83 and also touched the highest since May 2015.
Despite relatively high US crude oil production, curtailments in production by members of the Organization of the Petroleum Exporting Countries (OPEC) and robust global demand supported crude oil price increases in 2017, EIA said. That was 61 cents, or 1 percent, below their last close.
Brent for March settlement advanced 23 cents to end the session $68.07 a barrel on the London-based ICE Futures Europe exchange, the highest since December 2014. USA crude settled up 38 cents at $62.01, after earlier hitting $62.21, its highest since May 2015.
Anti-government protests since last week in Iran, OPEC's third-largest producer, have added a geopolitical risk premium to oil prices, though the country's production and exports have not been affected, sources said.
Ole Hansen, head of commodity strategy at Saxo Bank, said: "The market has moved into a bullish corner and the question is whether there is any way out of that apart from having a correction".
Oil prices have received general support from production cuts led by OPEC and Russian Federation, which started in January a year ago and are set to last through 2018, as well as from strong economic growth and financial markets.
Both benchmarks gained nearly 1.5% in the week when compared to the last week of 2017, as the oil market was seen still tightening and the bullish mood was fuelled by new factors. U.S. commercial crude oil inventories decreased by 7.4 million barrels from the previous week, the EIA said in a weekly update. Inventories are down by nearly 20 percent from historic highs last March, and well below this time previous year or in 2015.
Net U.S. crude imports fell last week by 292,000 barrels per day. However, some traders are questioning the associated risks of hanging out too long above those levels, especially the risks related to the impact on the demand, while other analysts cast doubts that there exists an upside for prices above these levels and qualify the current market situation as "an overly rosy picture".
Pipeline outages in Libya and the North Sea have supported oil prices, although both disruptions are expected to be resolved by early January.