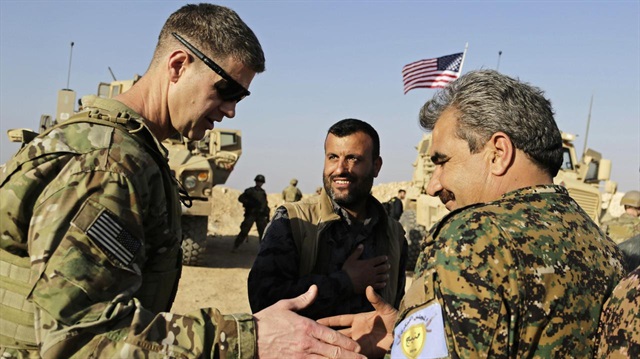 Centcom announced that US-led coalition forces in Syria opened fire at pro-Syrian government forces "in defense" of Syrian Democratic Forces headquarters.
The SDF cited a statement from the USA coalition which said "we (the USA coalition) have responded to the unjustified attack by pro-Syrian government forces on our partners of SDF".
US officials said it was not immediately clear whether the attacking forces were part of the the Syrian military or belonged to foreign militias or other units who fight in support of the government.
The SDF are led mainly by a Syrian Kurdish militia, known as the People's Protection Units or YPG, whose presence has caused increased tension between the USA and Turkey, which considers the YPG to be "terrorists".
Overall, the pro-government force included about 500 people supported by rocket and mortar systems and Soviet-era tanks, the official said.
Officials said it appeared that the pro-regime forces were trying to take back land that the SDF had liberated from IS fighters last September, including oil fields in Khusham.
Additional reporting from Newsy affiliate CNN.
No American troops were killed or wounded in the incident, officials said.
Officials say the airstrikes were in defense "of coalition and partner forces". The Syrian army is supported by Iranian-backed militias and Russian forces.
The SDF is an alliance of Arab and Kurdish militias in northern and eastern Syria and with USA backing are fighting against the government of Syrian President Bashar al-Assad.
While one member of the Syrian Democratic Forces was injured, no coalition or American personnel were killed.
The attack took place in the Middle Euphrates River Valley eight kilometers east of a negotiated "de-confliction line" meant to separate Russian-allied regime forces and USA -allied resistance fighters, according to Central Command.
"Coalition officials were in regular communication with Russian counterparts before, during and after the thwarted (enemy) attack", the official said. The US military command insisted that while its primary focus remains the defeat of ISIL in the middle Euphrates river valley, it at the same time "asserts its non-negotiable right to act in self defence". "Russian officials assured Coalition officials they would not engage Coalition forces in the vicinity".
Attacks on USA troops by pro-regime forces have been unusual, as are US -led air strikes against pro-regime forces.
The US maintains about 2,000 troops in Syria, who mostly work with the over 50,000-strong Syrian Democratic Forces, a mix of Kurdish and Arab fighters who have been the primary US-backed force fighting ISIS in Syria.
No US forces were injured, according to multiple news reports. Coalition aircraft have struck regime forces who were perceived as posing a threat to a base at At Tanf, Syria, that houses United States and coalition military advisers.