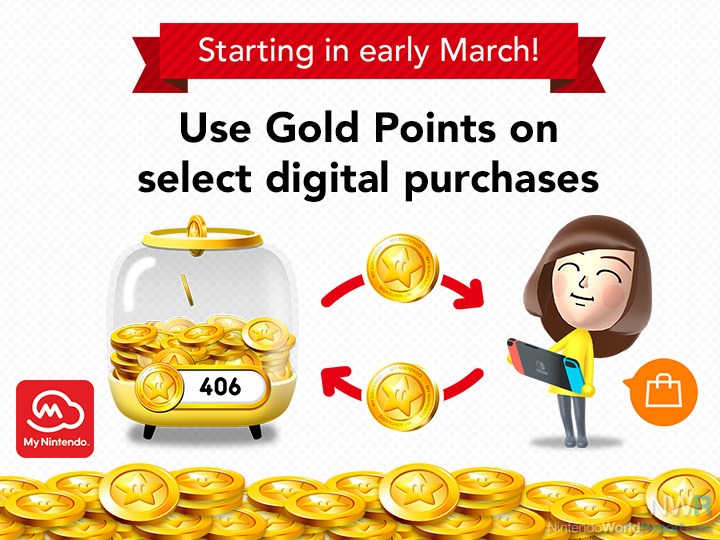 If you've been buying digital games on your 3DS, Wii U, or Switch since My Nintendo's rewards program went live, chances are you have some gold points saved up if you haven't been trading them in for discounts. Starting in early March, Nintendo is letting Switch players exchange Gold Points for "eligible digital games and content" on the Switch's eShop, according to Nintendo's My Nintendo U.S. and United Kingdom websites.
My Nintendo also offers Platinum Points, which can be earned and spent within games on in-game items and rewards.
• You can then redeem those points on your next eligible digital purchase (including games and DLC) for the Nintendo Switch system from Nintendo eShop or Nintendo.com.
Regular digital buyers are about to get a boost from My Nintendo.
Stay tuned for more details!
Meanwhile, the Nintendo U.K. website states that Nintendo Switch users can use Gold Points to partially pay for digital games, too, and use their current eShop balance to cover the rest. The established real-world value of one coin is, apparently, one cent. But they'll soon have an actual cash equivalent, which means that My Nintendo power-users may be able to use their hefty stock of points to buy new games from the eShop at no added cost.
For example, purchasing a £40 title will earn you 200 points, so you can technically save £2 on your next eShop buy. The catch, however, is gold points are going to expire after 12 months, so use them or lose them.
"By day 279, the Switch had 191 games available, a number the Wii U didn't match until it's 857th day - as many games in nine months as as its predecessor had in two years and four months".