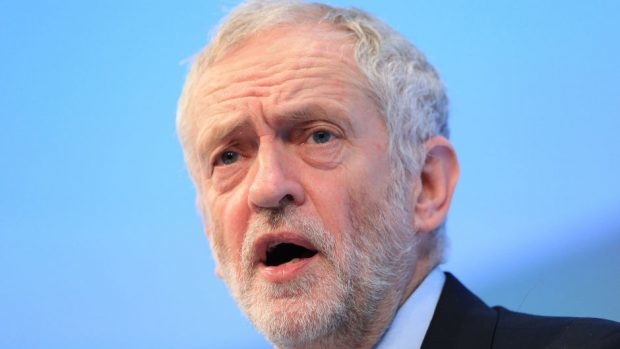 The group, called Palestine Live, contained posts denying the Holocaust and conspiracy theories about Israeli involvement in 9/11 and the Rothschild family, among other topics.
Mr Corbyn has been criticised for failing to demand that Theresa May fights to keep the United Kingdom inside the single market, with many Labour supporters believing a soft Brexit would be less damaging.
The Labour MPs Clive Lewis and Chris Williamson were members of the group, as were two former Liberal Democrat politicians, Baroness Jenny Tonge and the former MP David Ward.
Bitter infighting broke out hours before Mr Corbyn used his keynote speech to argue remaining would interfere with his socialist blueprint of mass nationalisation.
Among the posts on the group, members discuss whether they prefer the term "ZioNazi" to "JewNazi", according to the Campaign Against Anti-Semitism (CAA). One member is shown commenting "am reading Mein Kampf [by Adolf Hitler]...everybody should be forced to read it, especially Jews who have their own agenda as to why they were not liked". "I am very very careful, it is a secret group".
"Mr Corbyn and the Labour Party are clearly hoping this will all go away but it won't; their response so far has been totally inadequate".
Mr Corbyn added that the European Union was set to make changes to the rules governing Eurozone economies and the rights of temporary migrant workers.
And the party's Scottish leader, Richard Leonard, said delegates would be given a choice on whether to accept the Scottish Executive Committee's ruling - although it would be extremely unusual for it to be overturned. Last night, it complained about the page after it was discovered by blogger David Collier.
"So, I tell you, if we find any of those in that Facebook group were expressing anti-Semitic views, we will take action against them in the party".
"As anyone knows, in social media all sorts of things are posted which often others participating aren't even aware of", the spokesperson, who was not named, was quoted as saying.
Corbyn said his posts were limited to some replies, including "a suggestion on the vote on recognising Palestine, which I supported, and inviting a doctor to speak at an event".
HuffPost UK understands a team of investigators at Labour is working through Collier's dossier to "analyse statements" and determine whether those who shared offensive material are party members.
Mr Corbyn with Dawn Abey.
"He does not want the support of anti-Semites, who have no place whatsoever in the Labour movement".
"There is no conceivable justification for Jeremy Corbyn's participation in this group. One of Mr Corbyn's slogans is "standing up, not standing by", but in this case he has not stood up but instead he actively joined in", Glasman said. Home Secretary Amber Rudd announced the cash, which follows £38.5million since 2015.
An internal Labour probe in 2016 found although there was sometimes a "toxic atmosphere" around anti-Semitism and racism in the party it was not overrun with the problem.