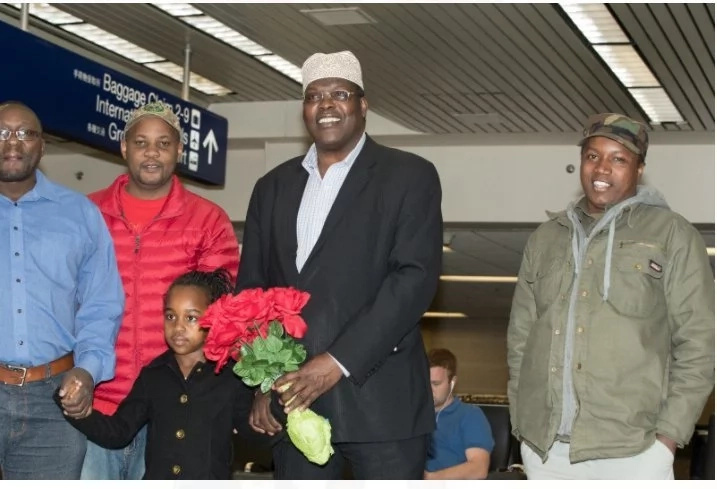 However, he was faced with yet another drama at Jomo Kenyatta International Airport after refusing to apply for a Visa.
This coming as a section of opposition legislators sought an explanation from the government on the whereabouts of the controversial lawyer. Last week, the court ruled that he could return to the country.
High court Judge Roselyn Aburili has also ordered that Miguna miguna be presented in the court on Wednesday, March 28th.
In the court documents, Miguna says the government has ignored court orders and refused to allow him re-entry into the country, in addition to unlawfully and forcefully removing him from the jurisdiction. He is traveling on a passport from Canada, where he also holds citizenship.
Mr Miguna's Emirates flight EK19 will touch down at Jomo Kenyatta International Airport at 2.30pm where he will be met by ODM members led by Senate Minority Leader James Orengo, his family and his legal team that has worked round the clock to secure his return.
Miguna quickly became embroiled in a dispute with immigration officials that escalated into efforts to put him on a flight to Dubai, United Arab Emirates.
NASA co-principal Moses Wetangula has hit out at the government over the attempt to re-deport National Resistance Movement (NRM) general Miguna Miguna that resulted in a nine-hour stand-off at JKIA on Monday.
He spent Monday night in an airport lounge.
FILE - Attorney Miguna Miguna, center left, and Kenyan opposition leader Raila Odinga, center, join others in celebrating Odinga's mock "swearing-in" ceremony at Uhuru Park in downtown Nairobi, Jan. 30, 2018.
Miguna accused the Government of detaining him in a toilet at JKIA in an attempt to block his entry into the country and to declare him a stateless person. "I am personally concerned because it is happening in my county and we would like to know what is happening because we would like to see people travelling in and outside the country", Sakaja said as he pleaded for two weeks to provide a comprehensive statement. Their recent talks have been touted as a way to ease the contention following last year's protracted presidential election cycle, which saw balloting in August and a rerun October 26.