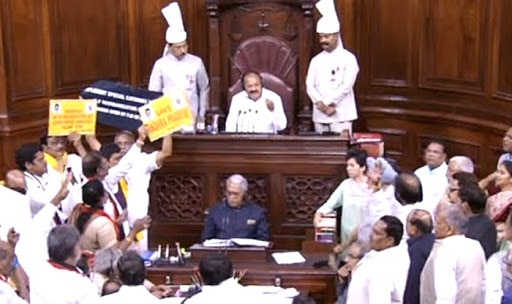 The Rajya Sabha ever since it has recommenced from March 5 has not been able to function as opposition parties have continued to create ruckus by putting their demands forward.
There was a moment of pride in the Upper House for Telugu people, including Naidu who is also a Telugu native.
Soon after Azad spoke, members from the TDP stormed the Well of the House carrying "Save Andhra Pradesh" placards and implementation of the AP Reorganisation Act.
AIADMK members trooped into the Well of the Lok Sabha soon after it convened for the day on Wednesday and raised slogans prompting Speaker Sumitra Mahajan to call off the Question Hour. Prashanta Nanda said, "Through my stint as an MP of the Rajya Sabha I would try my best to raise the issues concerning the state inside the House".
Amid this ruckus, members of the Bahujan Samaj Party (BSP), Congress slammed the government by terming it anti-Dalit. They also shouted "Dalit virodhi yeh sarkar, nahi chalegi, nahi chalegi" (This anti-Dalit government will not be tolerated). After taking oath, they walked up to Naidu who warmly shook hands with them and went on to sign the member's register. "What is the difference between people shouting slogans outside and here", he asked, as several MPs trooped to the well of the House. "You have not transacted any business including important legislations".
Naidu said any issue be it banking scam, Cauvery waters, Andhra special package, Dalit act or Kashmir issue can be discussed. He said handful of people were obstructing proceedings over their agenda.
Its unfortunate that debate on these issues is not happening despite the Chair permitting it and the government willing to discuss it, he said. This is not good for democracy. The House was adjourned for a record 10 times as members of opposition parties frequently entered the well pressing for their demands, preventing passage of anti-graft amendment bill.
The Congress said it would not mind if the session was extended by a day or two.