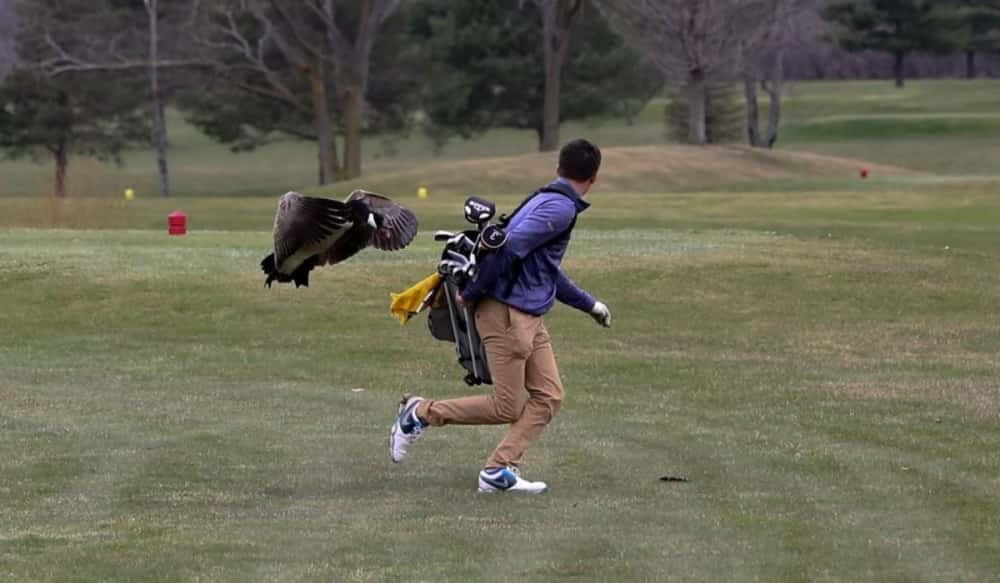 According to Click On Detroit, that actually happened to a high school golfer in MI over the weekend.
A MI high school golf tournament briefly turned into a wild goose chase Saturday - literally.
A high-school golfer from Michigan was competing at Highland Meadows Golf Course in Sylvania, Ohio, just over the Michigan-Ohio border, when he learned just how mean geese can be.
The photos, shared by the Blissfield Athletics' Twitter account, got the attention of The PGA of America, which shared in a post: "Though geese can be handsome when watching them fly in flocks, the truth is they can be a real nuisance to golfers". However, one guard goose didn't think the team was far enough away and attacked.
Photographer Devon Pitts captured the terrifying encounter. "I showed him the pictures and we were just laughing".
After cowering on the grass as the goose pecked at him from above, Isaac got up and tried to run away but tripped and upended himself in spectacular fashion.
"And you thought golf was boring", the high school said in a tweet on Sunday.
Fortunately, he was not physically hurt, although Blissfield said maybe his pride was injured.
"If a goose bit me I would club it, pitch a fire in the middle of a par 5 on the 3rd hole and eat it in front of it's family and INSTA it for PETA", someone replied.