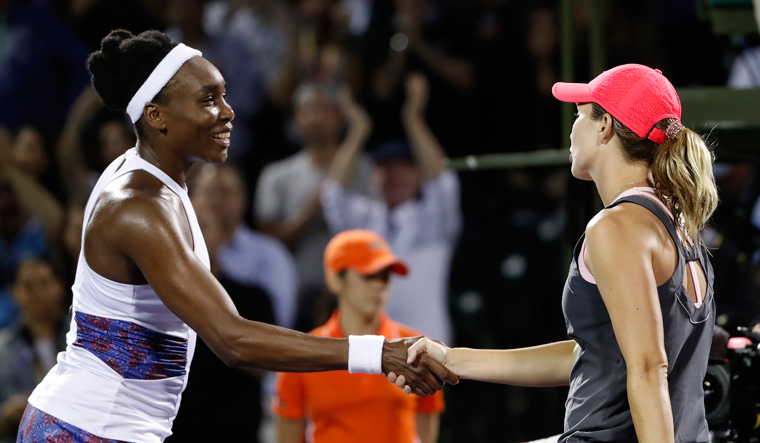 American tennis player Sloane Stephens kept intact her streak of never having lost a final as she defeated Latvia's Jelena Ostapenko 7-6 (7/5), 6-1 to claim the Miami Open title yesterday morning (Singapore time).
Stephens' ability to retrieve balls from all over the court ultimately won the day and the 25-year-old will now hope to kick on after maintaining her 100 per cent record in WTA finals.
Roland Garros champion Ostapenko of Latvia came into the match without having dropped a set or lost a tiebreak during the entire Miami fortnight, but both streaks came to an end at the hands of US Open victor Stephens.
Stephens will next be in action in just a few days at the Volvo Car Open in Charleston, where she is the fourth seed and where she won the title in 2016.
But here were two fresh stars who, despite winning Majors a year ago, were playing in their first Premier Mandatory final and playing one another for the first time. The match began with four straight breaks, and continued in that topsy-turvy vein for the rest of the first set.
Seeded 13th, Stephens won with defense, repeatedly extending rallies until Ostapenko would make a mistake. After that, Ostapenko's errors went up. When she was hitting great shots, I just was, like, Too good, and moved on.
Ostapenko has earned 650 WTA ranking points for advancing to the final of the Miami tournament.
Stephens had beaten three former Grand Slam champions - Garbine Muguruza, Angelique Kerber and Victoria Azarenka - to make the final, but she struggled initially against an aggressive Ostapenko.
"I'm playing the worst tennis ever", Ostapenko moaned to coach David Taylor when he came out for an on-court consult with his charge already down a set and 4-1.
It's something that I have wanted for a really long time.
Stephens hit 6 winners to 21 unforced errors, while Ostapenko had 25 winners to 48 errors. It's really exciting. And then obviously winning the tournament is just cherry on top.' Stephens feels excited heading into the clay season: 'I'm really looking forward to it.
Stephens and the No. 6-seeded Ostapenko, last year's French Open champion, battled nearly exclusively from the baseline, and the quality of play was often ragged. "Even when I am down or people are doubting me, there are so many great opportunities out there I didn't worry".
"I knew if I just got back to the drawing board I would be OK".