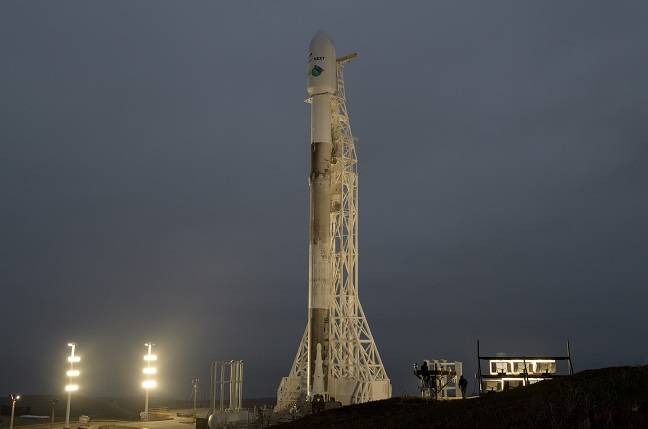 SpaceX, the rocket company founded by Elon Musk, will use its Falcon 9 rocket to launch seven satellites on Tuesday: two state-of-the-art NASA satellites and five commercial communications satellites.
Groundwater, oceans, lakes, rivers and ice sheets will be monitored by the Gravity Recovery and Climate Experiment Follow-On (GRACE-FO), a joint mission between the U.S. space agency and German Research Centre for Geosciences (GFZ).
For the first few days after launch, the lower, faster satellite will pull slowly ahead of the other until the two satellites are approximately 137 miles (220 kilometers) apart - the optimal separation distance for science operations.
SpaceX's recovery ship, Mr Steven is heading out into the ocean to attempt to catch at least one half of the expensive shell used to protect spacecraft during the early phases of launch.
The satellite valued at about $528 million would be launched on the latest version of the Falcon 9 rocket from Space Exploration Technologies Corp.
The GRACE-FO mission is scheduled to last five years, but seeing as how the original satellites, GRACE, were scheduled for that same mission duration, it's likely this duo will be in orbit taking measurements for a long time to come. The Iridium satellites were also successfully deployed about one hour after the launch. Two of those included new Earth-observing satellites from NASA.
The fairings landing in the Pacific Ocean after deploying parachutes to slow their descent.
GRACE satellites (including these two new satellites) fly in uniform pairs so that scientists can have a better read on how much mass is below the flight path. Then the lower, leading satellite will be raised into the same orbit as the higher, trailing satellite. The full constellation is to consist of 66 operational satellites, nine in-orbit spares and six ground spares.
According to the laws of physics, the slightest variation in mass on Earth modifies the pull of gravity on satellites.
If you want to watch the launch live you can do so via the YouTube window embedded above. GRACE Follow-On will spend the next five years mapping Earth's gravity to study the effects of climate change around the world.
NASA contributed $430 million to the new mission and the German contribution was 77 million euros, officials said. The pair measure Earth's gravity field by detecting minute changes (down to a micron level) in the distance between the spacecraft caused by anomalies in gravity.
The GRACE-FO spacecraft are equipped with laser retroreflectors that allow ground stations to accurately measure their orbits, further improving the accuracy of the data.