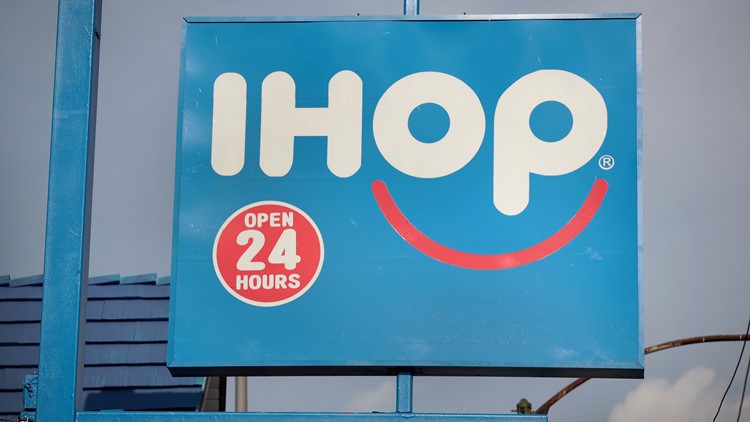 IHOP has revealed what was behind its mysterious tweets last week about changing its name to IHOb, at least temporarily.
After lots of speculation that the new "B" stood for "breakfast", the chain has announced that "B" stands for "burgers".
IHOP officially announced the limited-time name change Monday morning after teasing it on social media asking users to guess what they thought the name would "b"-come".
In response, the Wendy's Twitter account burned IHOP so hard its burgers will probably be inedible for a while, and Waffle House subtweeted the name change with a passive aggressive quote from Bruce Lee. The "b" stands for burgers! It doesn't seem like any of the restaurant chain's original items will be changed or replaced as a result of the new burgers.
IHOP's specialty is pancakes, we value IHOP as a place to get pancakes, and we shouldn't forget that IHOP is a place for pancakes.
Whether the rebranding sticks or is a temporary change, IHOP wouldn't say.
The belt-busting additions to the menu include Cowboy BBQ, which comes with onion rings, bacon and American cheese, and Jalapeno Kick, including sauteed jalapenos, serrano peppers, hickory-smoked bacon, pepper jack cheese and mayo.
"We're always going to be known as a breakfast place", IHOP President Darren Rebelez told the Los Angeles Times.
That said, IHOP has a new line of hamburgers it's pretty proud of.
"Dear Internet, we abbreciate your batience", the pancake burger chain tweeted. The name change, though, is meant to help the franchise connect with more people. It's just to promote a new selection of burgers IHOP, sorry, IHOb has rolled out.
IHOb tried its best to defend its decision with more puns using the letter "b", such as "We bromise that this is going to b good!" and "That's nice and all, but when are you gonna stob by?!".
Still, IHOb's bigger goal appears to have been achieved: To get consumers talking about the brand.