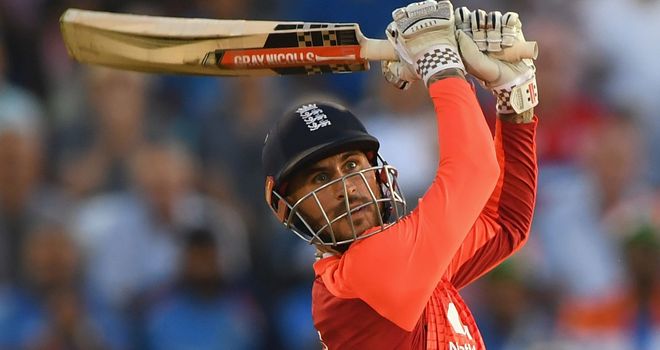 This is India's sixth consecutive T20I series' win, which is part of an unbeaten run stretching back to September 2017. India enjoys a dominating record against England in ODIs. The visitors went on to register their eighth T20I series win as Rohit Sharma smashed a fluent century during the chase.
India captain Virat Kohli (47) and Suresh Raina (27) rebuilt the innings with a patient partnership of 57 and former skipper MS Dhoni (32 not out) helped his side plunder 22 runs off the final over to lead the touring side to a respectable total. "The start we want in the first six overs. he is giving us wickets there".
Eoin Morgan admitted that he would have chased had he won the toss but despite a healthy covering of grass, it soon became clear that there were plenty of runs to be had on this pitch as England made a blistering start.
England also started badly and lost Jason Roy (15), the in-form Jos Buttler (14) and Joe Root (nine) as they struggled to 44 for three. Roy completed his half-century.
However, India slowly brought themselves back into the match.
A poor series for India's leading pacer.
Dhoni got to the 50-mark when he snaffled the risky Jason Roy caught behind off debutant Deepak Chahar's bowling.
Hardik Pandya was the man of the moment at Bristol but it wasn't just the four-wicket haul.
Dhoni, who took became the first player to take five catches in a T20 worldwide, removed his glove before the final ball of the innings, making it easier for him to run out Jordan as he tried to pinch a bye.
Leg-spinners Adil Rashid of England and Yuzvendra Chahal of India are other top 10 players who will be seen in upcoming matches. "There was a lot more clarity in the shots that we played". The execution wasn't up to scratch. But the expected players failed to keep rocking in the ground. "India played better than us".
Virat's 43 came from 29 balls and had two fours and two sixes.
"When I went for 22 in an over, I thought "the T20 is a amusing format", and the only thing to do was to come back and bowl my best balls". We backed up something and the guys produced the goods for us.
'I think the comeback from the bowlers was outstanding, we thought they would get 225-230. We had to make the batsmen feel like they would make mistakes. We have a fantastic staff and leaders who are giving us huge confidence to go and express ourselves.
Pandya, who had come back with a two-run second over, showed he had learned from his mistake early on.
"I was just chopping and changing trying to find a wicket, trying to be as unpredictable as we could but it didn't work".