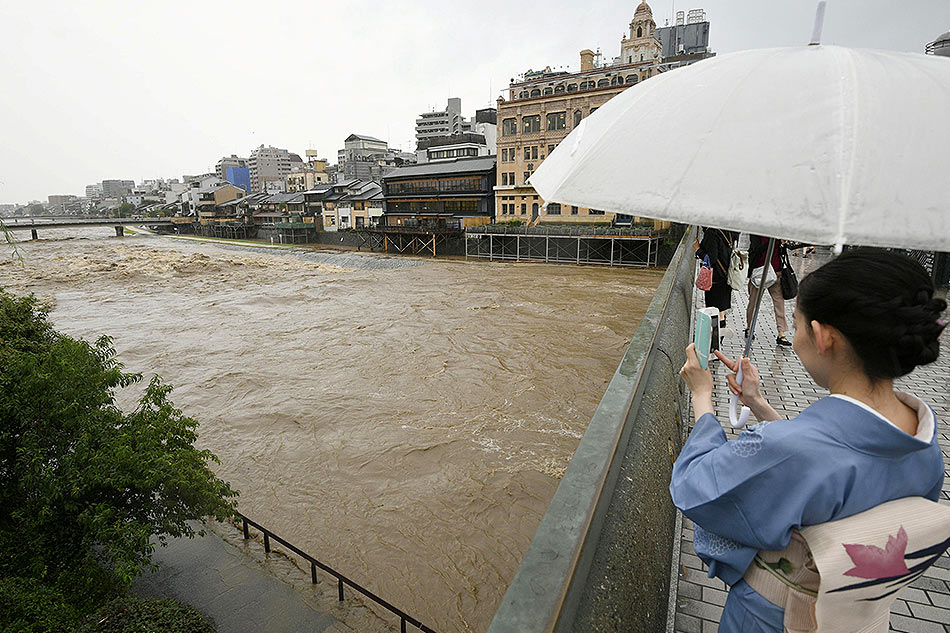 Intense rainfall triggered huge landslides and flash floods in Hiroshima, Okayama, Kyoto and other regions, while hampering rescue operations with dozens of people reportedly missing.
Authorities warn landslides can strike even after the rain subsides as the calamity is shaping up to be potentially the worst in decades.
"The situation is extremely serious", Shinzo Abe, the prime minister, said as he called for an "all-out" rescue effort.
At least 64 people were killed and 44 missing, national broadcaster NHK said after the death toll had been put at 49 overnight. Water and electricity supply was also disrupted across large areas, as some 276,000 households suffered outages across 11 prefectures. Abe asked members of his Cabinet to do everything they can to assist the search and rescue work. Japanese soldiers rescued people by boat in Hiroshima, while others were rescued from rooftops by helicopters.
In western Okayama prefecture, around 200 people including children and elderly people were trapped in a hospital after a river burst its banks and flooded the surrounding area.
Some 276,000 households now lack water supply, Kyodo news agency reported.
Government response: The Japanese government set up an emergency management center at the prime minister's office and has dispatched approximately 54,000 military, police and firefighters to carry out the rescue missions and provide disaster relief.
The rain has completely blanketed some villages, forcing desperate residents to take shelter on their rooftops with flood water swirling below as they wait for rescue. Evacuation orders had been issued to more than 360,000 people, the prefecture said in a statement.
Since the downpour began Thursday, when the weather agency forecast record amounts of rain through Sunday, 30 people have died in Hiroshima, 19 in Ehime and 10 in Okayama.
In Motoyama, a town on Shikoku island, about 600km from Tokyo, 583mm of rain fell between last Friday and yesterday morning, the Meteorological Agency said.
Kochi Prefecture, on Shikoku, issued landslide warnings nearly over the entire island.
"Water came to the middle of the second floor", a woman in Kurashiki, Okayama Prefecture, wrote, posting a picture of her room half swamped by flooding. Also in Ehime, two elementary-school girls and their mother who got sucked into a mudslide were rescued but their hearts weren't beating, it said.
Travelers planning to visit regions of Japan including Hiroshima and Kyoto should stay away for the time being due to the danger of deadly rains and flooding, the Ministry of Foreign Affairs (MOFA) said Saturday.
Mr Lee said he is deeply saddened to learn that the torrential rain in western Japan over the past few days has led to the tragic loss of lives and affected many families.