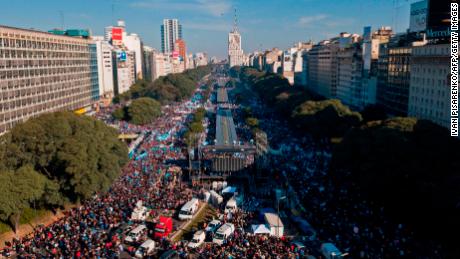 Women's groups across Latin America vowed to keep fighting for a right to abortion despite the Argentine Senate's rejection of a bill early Thursday that would have legalized the procedure in Pope Francis' home country.
Senate lawmakers voted 38 to 31 against the measure, which would have allowed abortion for the first 14 weeks of pregnancy. Opponents of the bill celebrated the decision on the streets outside Congress with fireworks as they waved Argentine flags.
The Catholic Church held masses during the Senate's vote and had called on Catholics to protest against abortion. But she said legalization advocates will still campaign in her country, which is one of the few in the world to ban abortion under all circumstances.
Following Thursday's vote against voluntary abortion, the Catholic Church in Argentina seeks to remain a place of welcome for mothers facing hard, unforeseen, or unwanted pregnancies.
Indeed, conservative President Mauricio Macri, who had promised to sign the legislation if it passed Congress even though he opposes abortion, said after the Senate's vote that the debate will continue.
Meanwhile, at the city's Metropolitan Cathedral, a "mass for life" was held in support of keeping laws unchanged.
Many women, a lot of them poor, have risky and degrading abortions every year - and activists estimate 3,000 have died since 1983.
Small groups rallied in other countries across the region to voice support for the Argentine abortion measure, including in Mexico, Brazil, Uruguay, Ecuador, Paraguay and Peru.
Currently, abortion is allowed in Argentina in only three cases, similar to most of Latin America: rape, a threat to the mother's life or if the foetus is disabled.
Soros also funds the pro-abortion Human Rights Watch (HRW), which has worked to pressure pro-life countries to legalize abortion.
"What this vote showed is that Argentina is still a country that represents family values", anti-abortion activist Victoria Osuna told Reuters. But in June, he said getting an abortion to avoid birth defects is similar to Nazi eugenics programmes. "It doesn't reduce abortions - it just makes them unsafe", said Amnesty International secretary general Salil Shetty in an interview with the progressive UK Guardian last April.
"Children are to be received as they come, as God sends them", he said.
"We're not deciding abortion yes or now".
Sadness turned to anger as some demonstrators hurled bottles outside the Palace of the Argentine National Congress in Buenos Aires. Only in the Central American trio of El Salvador, Honduras and Nicaragua does it remain totally banned.
Many who support abortion rights also gathered to hear the result, wearing green scarves and headbands, which have become symbols of the pro-abortion cause.