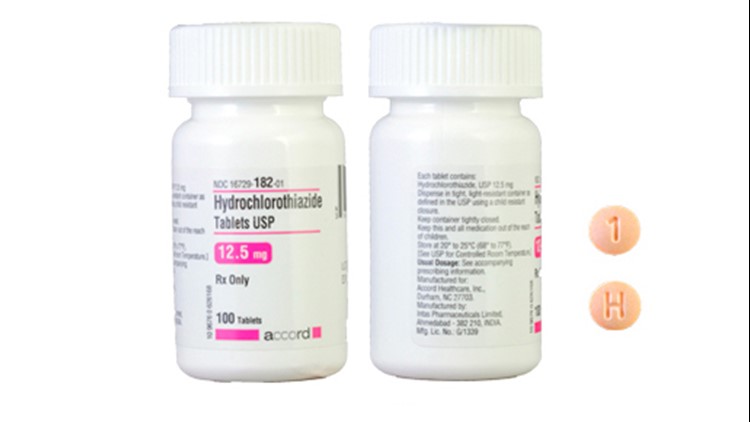 A single lot of the drug, PW05264, is being recalled.
According to the FDA, Accord Healthcare is voluntarily recalling certain bottles of 12.5 mg hydrochlorothiazide tablets after a 100-count bottle of the drug was found to contain a different medicine.
Both of the drugs can be used to treat high blood pressure, but the latter causes the body to flush out excess water and sodium and store potassium.
Use of spironolactone tablets instead of hydrochlorothiazide tablets poses the risk of contracting hyperkalemia (increase potassium levels) in certain individuals resulting in adverse events that range from limited health consequences to life-threatening situations in certain individuals.
The hydrochlorothiazide tablets are light orange to peach colored, round, and debossed with an "H" on one side and a "1" on another side.
One lot of blood pressure medication is being recalled after it was potentially mixed up with a drug that could be deadly to some heart patients.
Earlier this month, the FDA expanded a blood pressure medication recall that started in July, according to a report from the Inquisitr.
Accord stated in a press release that it has not received any reports of adverse events.
Not all drugs containing valsartan are being recalled, but this week the FDA expanded the list of drugs being recalled.
Consumers in possession of Accord Hydrochlorothiazide tablets that do not match the above description are urged to return the pills to their pharmacy or healthcare provider for confirmation.
The FDA has said that only one lot of hydrochlorathiazide was affected by the labeling mix-up, though the agency did not say how many bottles were in the shipment.