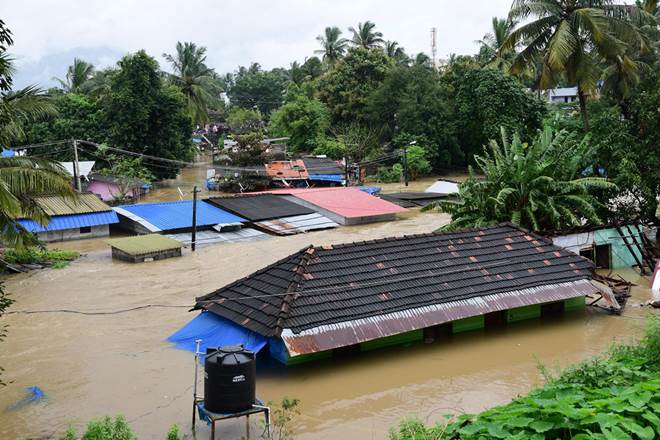 State Chief Minister Pinarayi Vijayan visited flood affected areas.
A team sent by the Central government is also visiting flood-affected areas in Kerala. State Home Ministry said in a statement, "11 people have died in Idukki, five have lost lives in Malappuram, three in Wayanad, two from Kannur and one person has died in Kozhikode".
"The rains have slowed down in and around the Idukki dam since last night and hence the water level in the dam has also come down", State Power Minister M.M. Mani said.
Torrential rains and landslides killed at least 24 people in southern India on Thursday, with the authorities opening the shutters of 24 water reservoirs in an unprecedented move to prevent potentially disastrous breaches, officials said. The release of the Idamalayar dam resulted in the flooding of low laying districts as well.
Meanwhile, state Revenue minister E Chandrasekharan reviewed the flood situation and the precautionary measures to be taken in Aluva and nearby areas in view of the possibility of increase in the water level following release of more water from Idukki reservoir.
The Indian Air Force (IAF) has deployed five An-32 transport aircraft, two Mi-17 V5 helicopters and an Advanced Light Helicopter (ALH) for rescue and relief operations in the rain-devastated parts of Kerala.
Idukki district received 167.2 mm rainfall on Thursday, which is more than eight times the normal.
Union Minister Alphons Kannanthanam said he discussed the flood situation in Kerala with Home Minister Rajnath Singh, who assured him of all possible help.
Two NDRF teams have been sought from the Centre for north Kerala.
On Friday, all five shutters of the Cheruthoni dam was opened cutting the hill station from the rest of the world. "People living in downstream areas of these dams must be cautious", a tweet by the Chief Minister's Office said later.
According to the National Disaster Management Authority's (NDMA) situation report, since the beginning of the monsoon season 14 districts in the state have been affected by floods comprising over 2,000 villages.
NDRF personnel engaged in rescue operations.
Kochi in Ernakulam district is also bracing for floods as the water level in the Periyar river has been rising since the fourth sluice gate of the Idukki reservoir was opened.
The full reservoir level is 2,403 feet and storage capacity is 69,268 Mcft and storage percentage is 97.61 per cent. Over 15,600 have been evacuated from affected areas and around 500 relief camps have been set up. Out of the four shutters, only the second and third one has been kept open by one metre each while the first and fourth shutters has been closed reducing the spillway discharge by 200 cumecs.