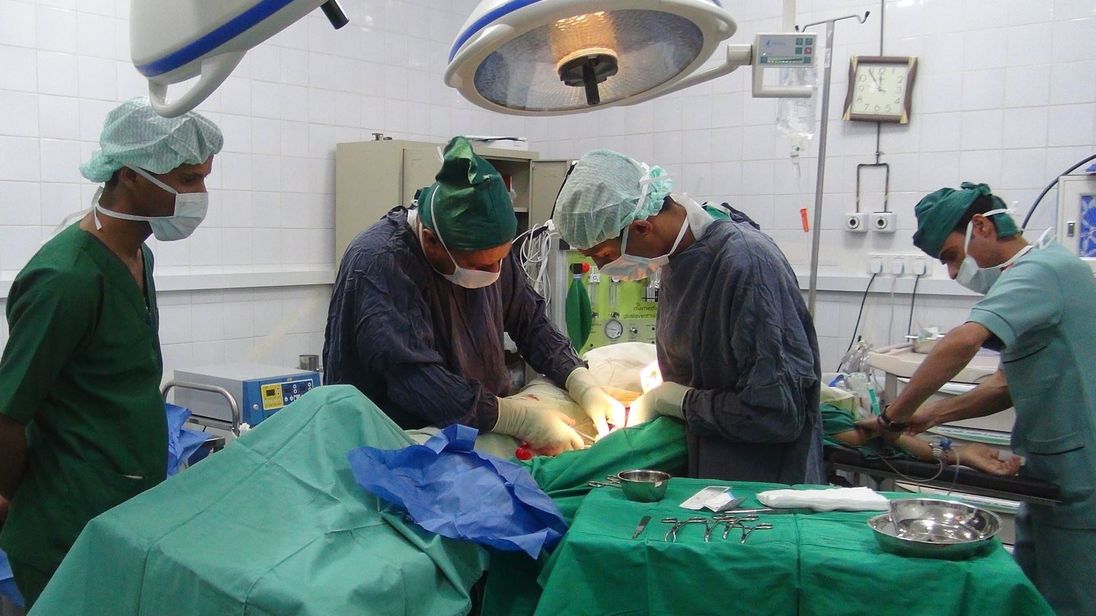 "(The air strikes) conformed to global and humanitarian laws", the coalition statement said, quoting spokesman Colonel Turki al-Malki.
The buses were targeted as they were passing through Dahyan market in the rebel-held province of Saada, according to the Houthi-run Al-Masirah TV.
Colonel al-Maliki said the coalition will take all necessary actions against the criminal, terrorist acts of pro-Iranian Houthi militias, such as the recruitment and placement of children on battle fronts and "using them as tools to cover for their terrorist acts".
The Houthis seized the capital, Sanaa, in 2014 and overthrew the internationally recognised government led by President Abdrabu Mansur Hadi during a transition of power from former president Ali Abdullah Saleh.
Houthi media broadcast what appears to be graphic scenes of the aftermath, depicting children drenched in blood and burned black by the blast.
"A hospital supported by our team in Yemen received the bodies of 29 children under the age of 15 and 48 wounded, including 30 children", the International Committee of the Red Cross (ICRC) tweeted.
The "Coalition to Restore Legitimacy in Yemen" said it had carried out a legitimate military action in the area targeting Houthis responsible for a deadly missile attack on Jazan on Wednesday.
According to the United Nations human rights office, more than 16,000 civilians have been killed or injured since the war began, the vast majority by airstrikes.
Later, air strikes were reported in the rebel-held Yemeni capital, Sanaa.
Coalition spokesman Maliki confirmed the strike had hit a bus, telling AFP "the elements inside the bus were Houthi combatants".
"The Secretary-General calls on all parties to respect their obligations under global humanitarian law, in particular the fundamental rules of distinction, proportionality and precautions in attack", his spokesperson, Farhan Haq, said Thursday.
Fragments from a missile launched at the Jizan Industrial City in southern Saudi Arabia late on Wednesday, killed one Yemeni civilian and wounded 11, Saudi state media said earlier on Thursday.
Col. Al-Maliki affirmed that the leaders and militants responsible for launching ballistic missiles and targeting civilians would be held accountable under the Coalition's efforts to prevent terrorist elements from compromising regional and worldwide security.
The Saudi coalition has been at war with the Houthis since March 2015.
Thursday's attack marks a grim milestone in a war that lately has seen yet another escalation, as coalition-backed Yemeni government forces have made a recent push to reclaim the key port city of Hodeidah from rebels.
"It is beyond cruel; innocent children's lives have been lost".
The US, the United Kingdom and other Western powers have been providing arms and intelligence to the alliance in the course of the war, which has unleashed the world's worst humanitarian crisis in Yemen, according to the UN.
"The human cost of the war in Yemen is so high".