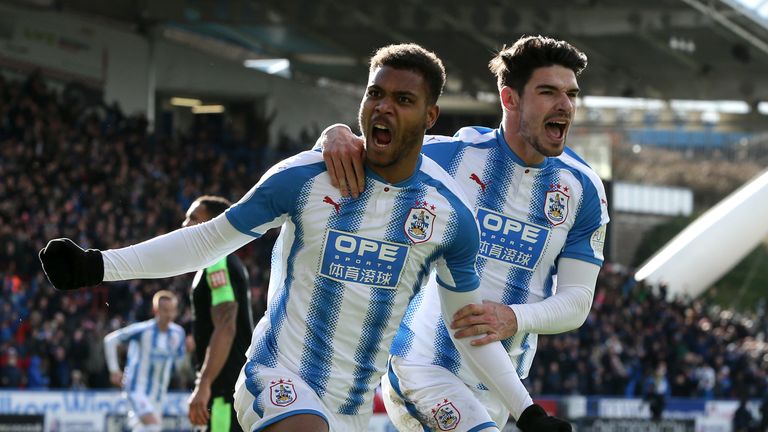 Maurizio Sarri got his reign as Chelsea manager off to a fine start today, with his side recording a comfortable 3-0 victory over Huddersfield in their first Premier League game of the season.
The Belgian was given three weeks off after his exploits at the World Cup and was only named on the bench at the Kirklees Stadium, but he made a massive impact when he was finally brought on in the second half.
While Sarri left smiling, Huddersfield manager David Wagner felt his side had shown encouraging signs despite the scoreline.
Not content with covering 75 per cent of earth and controlling the midfield, N'Golo Kante is now scoring goals!
The France midfielder was typically dominant with his usual duties, but surprisingly clinical with an extremely rare goal for the Blues in the first half.
Steve Mounie was agonisingly denied by the crossbar as Huddersfield created their fair share of opportunities in the first-half, but the Terriers lacked quality and a bit of fortune in the final third.
But Chelsea again punctuated a strong spell for the hosts with a goal, Jorginho sitting debutant Ben Hamer down with a skip in his run-up for an incredibly cool spot-kick after Christopher Schindler caught Marcos Alonso at the end of a neat move from the Blues.
Kante is already recognised as one of the better midfielders in Europe for his ability to appear in many places at one time defensively.
It took us a while to get going, but once we did, Huddersfield didn't stand a chance. Jorginho will clearly be the key, the expert at quickly shifting the ball that Sarri knows well from Napoli. He did well with that and we as defenders we needed to help him and we did that. Their play was much more fluid; they adopted the style of football Sarri likes his teams to play. They were not dominant, but kept their theoretically superior opponents from making too many threatening attacks, happy for Chelsea to pass the ball around in deep positions. Could they be potential title challengers this season?