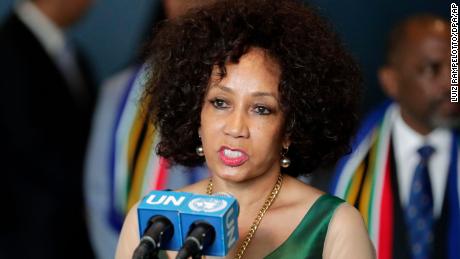 The debate over the land reforms became an global issue when last week US President Donald Trump said he had asked Secretary of State Mike Pompeo to study South African "land and farm seizures" and the "killing of farmers".
We are determined that whatever measures we take to effect land reform do not undermine the economy.
Britain's Theresa May voiced her country's support for recently enacted South African land reforms stipulating the return of expropriated farm lands to black farmers adding that she plans to discuss the issue further with President Cyril Ramaphosa during her visit to the southern-most African nation. Titled "Despite Crime Epidemic, Farm Murders Down", the cable outlines statistics on murder rates on white-owned South African farms.
South Africa has also been cosying up to China, a fellow member of the BRICS grouping that includes Brazil, Russia and India, and could feel confident, rightly or wrongly, that it has sufficient friends to help it withstand any blows Big Brother might throw its way.
May doesn't care about human rights.
But while the two parties leading the expropriation charge both agree on the redistribution of land as a means of redress and empowerment, their respective positions on the mechanisms involved differ.
White farmers own nearly three-quarters of South Africa's agricultural land, according to an audit by lobby group Agri SA published past year, down from 87% during white rule.
But in the United States, President Donald Trump had a different view.
Former U.S. diplomats and South African leaders denounced Trump's declaration in a tweet late Wednesday that he had instructed Secretary of State Mike Pompeo to monitor the "large scale killing" of white farmers and the government's expropriations of their land.
"I think it is a right-wing ideology, and it is very unfortunate".
They would know that the South African government is working alongside its social partners in business, labour and civil society to build a new and inclusive growth path for South Africa.
This was despite the weakness of the US dollar in terms of the US-Mexico trade deal which "whetted the appetite of the market for riskier assets", according to TreasuryONE currency dealer Andre Botha.