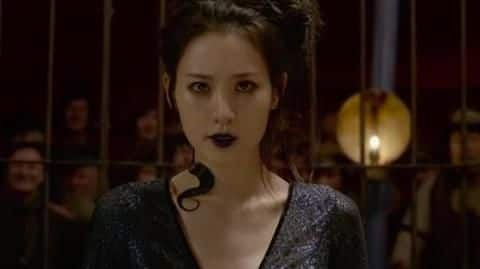 It is not the first time she has had to defend a Fantastic Beasts casting, hitting back at critics of Johnny Depp's role in the new film a year ago following allegations of domestic violence by his ex-wife, Amber Heard. "Representation as an afterthought for more woke points is not good representation", a social media user tweeted to Rowling. If you know your Harry Potter lore, you know that Nagini will eventually turn into a snake permanently, and become the companion (and partial soul-bearer) of Lord Voldemort.
Fantastic Beasts: The Crimes Of Grindelwald is the highly anticipated sequel to 2016's Fantastic Beasts And Where To Find Them.
If you're familiar with Potter, you may recognize Nagini as the name of the snake constantly at the side of Lord Voldemort, the one who bit Professor Snape to death in Harry Potter and the Deathly Hallows.
Rowling responded to critics to explain what Nagini is.
If you read the book, you would remember that Nagini was Lord Voldemort's final and most closely protected horcrux in the Potter series that Harry destroyed in the final book after much struggle.
As YA author Ellen Oh wrote, "I feel this is the problem when white people want to do diversity and don't actually ask POC how to do so", adding that she thinks the casting is racist.
Previous trailers dropped hints that a Maledictus was part of a magical travelling wizard circus, called The Circus Arcanus, and in the latest clip, Claudia's character can be seen transforming herself into a snake inside a cage. In the trailer, Dumbledore looks into The Mirror of Erised and sees what he desires most, a young Grindelwald.
But JK Rowling tweeted that Nagini is based on "the Naga", which are "snake-like mythical creatures of Indonesian mythology". As the trailer goes on a surprising reveal for Potterheads happens.
"Fantastic Beasts: The Crimes of Grindelwald" received backlash over casting Johnny Depp in the film despite the domestic violence allegations made against him by his former wife Amber Heard.
"To say suddenly that she was a real human person the whole time is really gross".
"Fantastic Beasts: Crimes of Grindelwald" is in theaters November 16. Her response is being seen as a cover up for the shoddy representation of one of the few South Asian characters that can be found in the Potterverse.