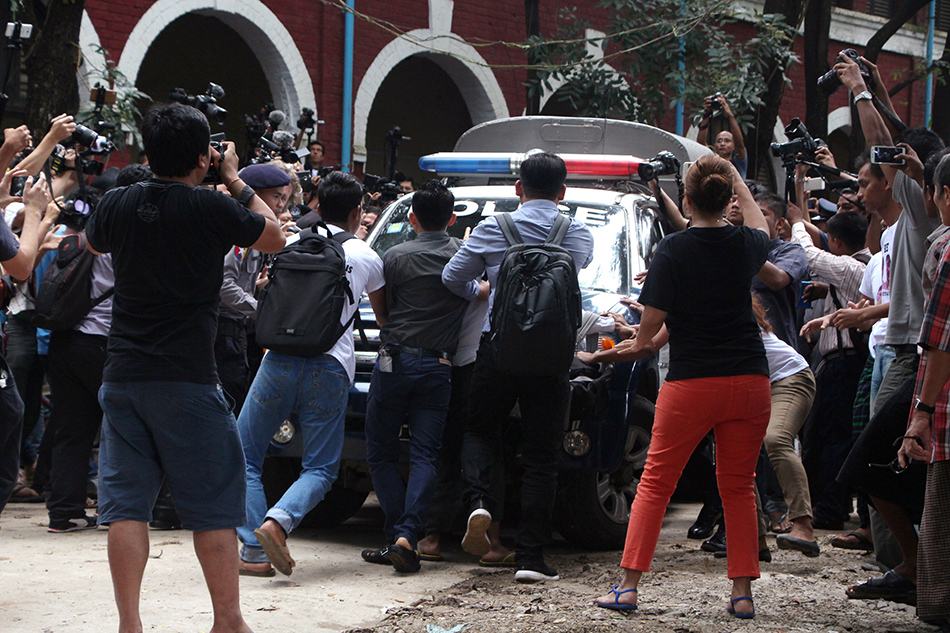 They had been arrested last December while carrying official documents given to them by police.
The European Union called for their immediate release, saying the conviction "undermines the freedom of the media", Reuters reported.
"Today is a sad day for Myanmar", said Reuters editor-in-chief Stephen J. Adler.
Wa Lone, 32, and Kyaw Soe Oo, 28, both testified they suffered from harsh treatment during their initial interrogations. After being invited to a dinner by officers, they were detained and have been held in a Yangon jail since.
The case and its verdict have been widely condemned by critics in the internationall community who see them as evidence that journalists remain vulnerable and potential targets in Myanmar despite its political reforms of the past several years.
The verdict had been postponed for a week because Judge Ye Lwin was sick.
"It is found that the culprits meant to harm the interests of the state". Documents in their possession and on their phones were "not public information", he said.
"In any democracy, journalists must be free to carry out their jobs without fear or intimidation".
He said, "Wa Lone and Kyaw Soe Oo should be allowed to return to their families and continue their work as journalists".
"What I want to say to the government is: you can put us in jail, but do not close the eyes and ears of the people", he said. They contended they were framed by police after exposing extrajudicial killings of Rohingya Muslims by the military in Rakhine state.
Wa Lone and Kyaw Soe Oo - who both have young daughters and have not seen their families outside of prison visits and court hearings for almost nine months - were then taken back to prison. Wa Lone's wife and daughter, born last month, were not present in the court.
Kristian Schmidt, EU ambassador to Myanmar, in a post on Twitter, said the prison sentences of Wa Lone and Kyaw Soe Oo should be "reviewed and they should be released immediately and unconditionally".
In June, the United Nations refugee and development agencies inked a memorandum of understanding with the Myanmar government to help make ground conditions in Rakhine state conducive for a sustainable, voluntary repatriation. He has mostly declined to comment throughout the proceedings, saying the courts were independent and the case would be conducted according to the law.
U.N. Resident and Humanitarian Coordinator in Myanmar Knut Ostby said the U.N. was "disappointed by today's court decision".
"Unbelievable! More and more, responsible journalism is found to be a crime in Myanmar!"
"This has dealt a hammer blow for the rule of law", Chugg said. Adler said Reuters may "seek relief in an worldwide forum".
In the months prior to their arrest, they were investigating a massacre of 10 Rohingya by Myanmar security forces in northern Rakhine State.
Army-led "clearance operations" past year drove 700,000 Rohingya into Bangladesh, carrying with them widespread accounts of atrocities - rape, murder and arson - by Myanmar security forces.
The piece reports that Myanmar troops and Buddhist villagers killed 10 Rohingya men in a remote village in September 2017 and buried them in a single grave.
The same day, Facebook shut down the pages of Myanmar's army chief Min Aung Hlaing and other military top brass, in what the company said was a bid to prevent them from further fanning "ethnic and religious tensions".