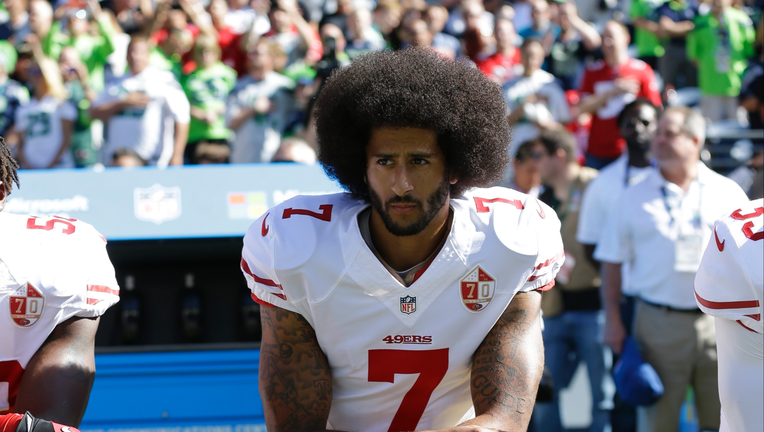 Nike unleashed a potent new ad Monday featuring Colin Kaepernick on Monday.
Kaepernick, who began kneeling in protest of racial injustice during the US national anthem in August of 2016, is entering a second National Football League season without being on a team roster.
The protests have grown into one of the most polarizing issues in sports, with President Donald Trump loudly urging the league to suspend or fire players who demonstrate during the anthem.
An arbitrator is sending Colin Kaepernick's grievance with the NFL to trial, denying the league's request to throw out the quarterback's claims.
The ad is a simple black and white image of Kaepernick's face with the message, "Believe in something".
The NFL this season has adopted a rule requiring all players to stand during the anthem, although it gave them the option of staying off the field until the ceremony was over.
Kaepernick's inclusion in the "Just Do It" campaign marks another foray into politics for Nike, which responded to Trump's bigotry-fueled election and inauguration in 2017 with an ad titled "Equality". The quarterback has been a free agent since he opted out of his contract with the San Francisco 49ers after the 2016 season and, so far, no other team has extended him an offer.
Other players followed his lead, as several began to protest previous year and helped create a number of programs.
Kaepernick may have not been signed to a football team, but ESPN reporter Darren Rovell said that Nike has been paying Kaepernick throughout the controversy.
News of Nike's ad campaign broke just days before the first game of the National Football League season on Thursday, when the controversy over pre-game protests could flare anew.
The advert comes just days after Kaepernick was cheered by spectators when he appeared alongside fellow player and activist Eric Reid at the US Open tennis tournament to watch Serena Williams on Friday.