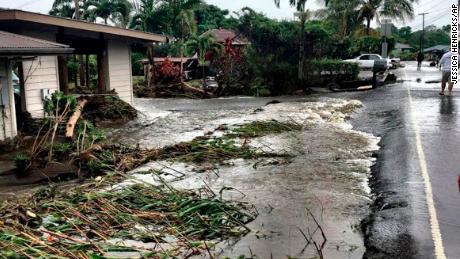 The tropical wave that would become Hurricane Irma left Africa a year ago on Monday. It had maximum sustained winds of 50 miles per hour (85 kph).
With the peak of hurricane season close at hand, there are signs that the tropical Atlantic may soon spring to life with the potential for direct impact on the coastal United States in the days ahead.
But Tropical Storm Mirian is spinning in the Pacific Ocean some 2,000 miles east of Hawaii and is expected to become a hurricane as it approaches the islands.
Kauai roads and taro patches flooded Tuesday as leftover moisture from Tropical Depression Lane dumped heavy rain on the island.
As far as active storms we're watching, we have 2 out in the Pacific. Fred marks the easternmost formation of a hurricane in the tropical Atlantic, according to hurricane records in a National Oceanic and Atmospheric Administration database.September 4, 2015 - Weakens to a tropical depression.
Tropical-storm-force winds extend outward up to 80 miles from the center. The 10 AM CST Advisory had wind speeds clocked at 65 miles per hour and a minimum pressure of 994 millibars.
Tropical Storm GraceSeptember 5, 2015 - Tropical Storm Grace forms.September 8, 2015 - Weakens to a tropical depression.
Tropical Storm BarryJune 19 - Tropical Storm Barry forms in the southern Gulf of Mexico.June 20 - Weakens to a tropical depression and then later a post-tropical cyclone.
Tropical Storm HenriSeptember 9, 2015 - Tropical Storm Henri forms.September 11, 2015 - Dissipates.
Tropical Storm FernandAugust 25 - Tropical Storm Fernand forms over the western Bay of Campeche off the coast of Mexico and makes landfall near the state of Veracruz.August 26 - Weakens to a tropical depression.
Miriam is expected to enter the Central Pacific basin, which is where Hawaii is located, this afternoon at which point forecasters with the Honolulu-based Central Pacific Hurricane Center will assume responsibility for monitoring the storm.
Rapid intensification is forecast, and Norman is expected to become a major hurricane on Thursday.