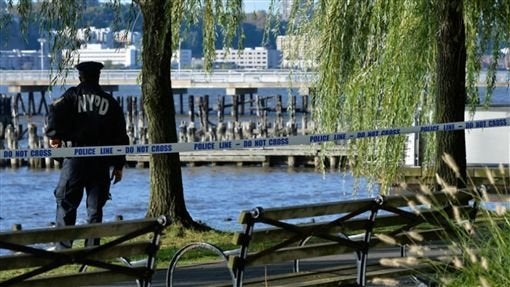 The family members of two Saudi sisters found washed up on the shore of the Hudson river in NY have denied reports the two women killed themselves.
Problems arose for Rotana when she learned her whole family would have to return to Jeddah, Saudi Arabia. Chief of Detectives Dermot Shea said they were particularly interested in finding out what happened since they were reported missing and what led them to New York City.
Police at the scene, October 24, 2018, near the Hudson River in New York City where the bodies of two dead females, bound in duct tape, were found.
Consulate sources said autopsy results determining the cause of the death are yet to come out and the investigation is underway.
Mystery continues to surround how the bodies of Rotana Farea, 22, (left) and her 16-year-old sister, Tala Farea (right) washed up along the Hudson River last week.
Tala was last seen on August 24, according to a now-removed posting on the National Center for Missing and Exploited Children's website.
Several rumors surfaced with regards to the girls' mysterious deaths, including claims that they'd been missing for two months.
Family members told Arab News that the two sisters had only lost contact with their mother a week ago. It said the sisters were students "accompanying their brother in Washington".
Their bodies were bound together with duct tape that was tied around their feet and waists.
The sisters were found laying on rocks near the river, fully-clothed, both wearing black jackets with fur trim and black leggings. However, there was no trauma to their bodies that would indicate they had jumped from the bridge. Detectives from NY have traveled to Virginia to follow up on leads in the case.
The New York Times gave a new account about the tragedy saying that a person strolling through Riverside Park last Wednesday afternoon spotted something jarring on the riverbank and called the police.