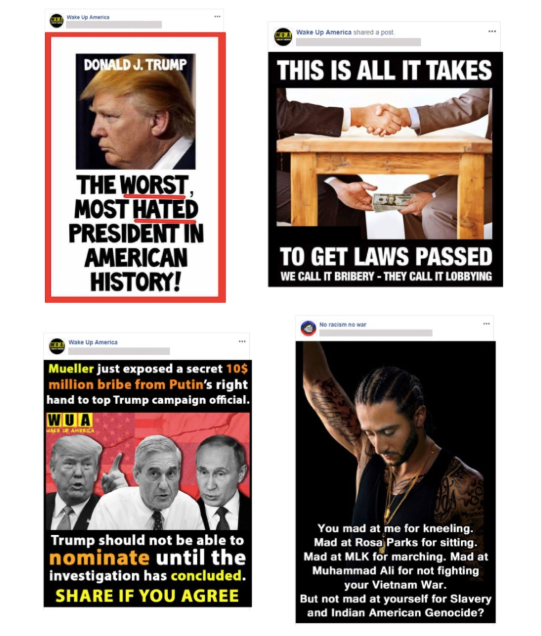 The social media company removed 82 pages, groups and accounts on Facebook and Instagram that represented themselves as being from American or British citizens, then posted on "politically-charged" topics.
The company wrote on its blog the account owners misrepresented themselves as USA or British citizens and repeatedly posted comments on politically divisive topics.
Facebook published a few example posts Friday, which were critical of the Trump administration as well as British Prime Minister Theresa May.
One of the pages had amassed 1.02 million followers, and one of the groups was joined by roughly 25,000 accounts.
Democratic Representative Adam Schiff, who is a ranking member of the House Intelligence Committee, said Facebook's decision to pull down the questionable pages and accounts and share the information with the public is critical to "keeping users aware of and inoculated against such foreign influence campaigns". However, one of those ads was booked all the way back in 2016, suggesting that this disinformation campaign had been going on for some time.
While the accounts originated in Iran, Facebook said it was unclear if they were linked to the Tehran government.
One of the pages had slightly more than a million followers, with the majority of the engagements taking place over the past year, the company said. Another 16 accounts were found on Instagram. Example posts from purged Pages include images targeting race relations in the U.S. and UK, President Trump, corruption, and more.
The Atlantic Council said its digital forensics lab scrutinized pages and Instagram accounts shared with it by Facebook prior to the take-down.
The company says it has shared information about these pages and their activity with USA and United Kingdom government officials, U.S. law enforcement, Congress, other tech companies and the Atlantic Council's Digital Forensic Research Lab.
Facebook released screenshots of some of the pages, which were named "Wake Up America", "No racism no war", and "Thirst for Truth".
"This looks like an Iranian disinformation operation that has learned from the Russian operations", Nimmo said.
The action follows takedowns of hundreds of accounts linked to Iranian propaganda efforts by Facebook, Twitter Inc (TWTR.N) and Alphabet Inc.
Major online social platforms have been under intense pressure to prevent being used to misinform and enrage voters by "bad actors" out to sway outcomes. The company said that all the affected accounts were linked with "unauthentic" activities. The war room is staffed with more than 20,000 workers assigned to weed out fake accounts set up to distribute false information.