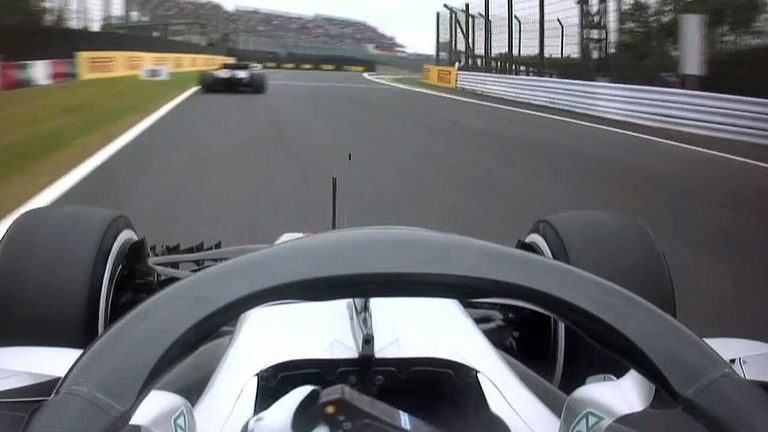 Lewis Hamilton extended his Championship lead to a whopping 67 points after cruising to victory at Suzuka, while Vettel fumbled yet again after colliding with Max Verstappen during a key stage of the race, finishing a lowly sixth place as a result.
After the first of the double-header races in Russia, Sebastian Vettel admitted that he was surprised by the team's loss of pace as he qualified more than half a second off the pole position occupied by the Mercedes of Valtteri Bottas.
Three years after claiming the third title of his career at the United States GP, Hamilton will secure a fifth crown in Austin next week if he outscores Vettel by eight points - although he is insisting nothing is won yet.
"If I don't go for that gap and that gap was there, I might as well go home".
"You have to set your sights high and so naturally, as you come into the season, you set the goal high, set the target high", Hamilton said. "He didn't give enough room and we touched". The top drivers remained largely the same for the rest of the race, with Hamilton extending his lead followed by Bottas.
Verstappen went on to finish third regardless, and when told by team principal Christian Horner after the race that he would not be "too popular with Ferrari and the Italians", he jovially replied: "That's not my problem, they were too aggressive".
Verstappen continued without losing much time but Vettel spun to the back of the field and was now consigned to a long afternoon fighting back. I knew he had a five-second penalty.
Update: Stewards have decided that there will be no penalty awarded to either drivers for the collision.
Sebastian Vettel tore into Red Bull's Max Verstappen for a hair-raising collision in Japan on Sunday that all but killed off the German's fading Formula One title hopes.
It was an impressive day for Red Bull driver Daniel Ricciardo who started 15th but finished fourth ahead of Vettel's Ferrari teammate Kimi Raikkonen.
"I locked up and I could easily have cut the track, [but] I made my best effort to get back on track", Verstappen argued. Esteban Ocon finished ninth behind Romain Grosjean of Haas and Renault's Carlos Sainz Jr. beat Pierre Gasly of Torro Rosso to take 10th.
"I think it's correct that maybe we've been on the wrong side a couple of times but I don't think there was an bad big gap or an terrible lot to get wrong".
"I don't think there was anything wrong with trying". "But the gap was there - I had more speed, I would have made the corner". The Red Bull driver locked up on the final corner of the opening lap and ran off track, only to rejoin in the second part of the chicane.
"He knew that I was there and he just drove into me and pushed me off the track".
Ferrari boss Maurizio Arrivabene said the podium had been within Ferrari's grasp.