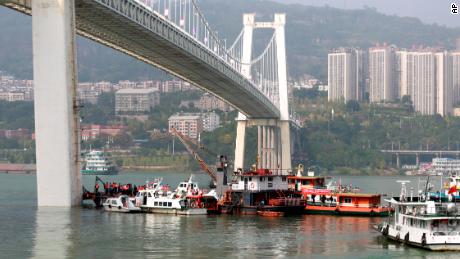 The wreckage of the bus was pulled out of the river from a depth of 71m on Wednesday night.
A heated quarrel between a bus driver and a passenger was to blame for the tragic crash which killed more than a dozen in southwest China's Chongqing Municipality on October 28, local police said at a news briefing on Friday.
The official Xinhua News Agency said Friday 13 bodies had been retrieved from the river and two others were still missing.
The video shows that they exchange more blows before the driver loses control of the bus, strikes a vehicle and careens through the four-lane bridge's railing into the Yangtze.
The accident was fatal: EuroNews reports that all 15 people on board the bus were killed, including the driver.
Deadly road accidents are common in China, where traffic regulations are often flouted or go unenforced. She walked up to the driver's seat and scolded him.
The bus, travelling at speed, then turns into the opposite lane and smashes through the safety barriers, before the footage cuts out.
In the video, a female passenger approaches the driver, hitting him directly in the face with her phone.
Fifteen people including the driver were thought to be on the bus at the time. The driver took his right arm off the steering wheel and fought back.
For days after the accident, the No. 22 bus lay at the bottom of the Yangtze River - in waters more than 70 meters (230 feet) deep.
The passenger and driver have been identified by their surname as 48-year-old Liu and 42-year-old Ran, both from Wanzhou, police added.
A Wanzhou police statement said the driver and the passenger broke the law with their actions because they seriously endangered public safety.