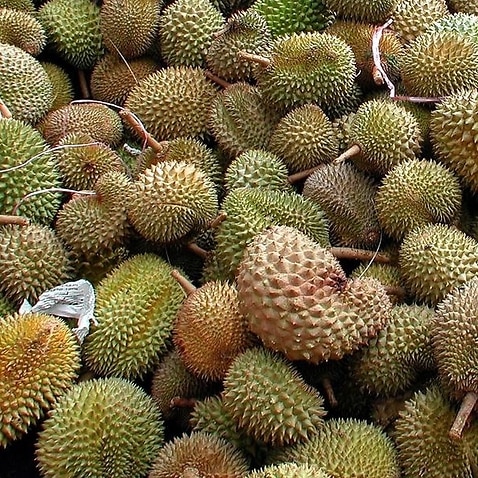 Passengers disembarked the Sriwijaya Air flight, bound for Jakarta from Bengkulu on Sumatra Island, after complaining that the odour in the cabin would make flying unbearable.
A reporter with Indonesia's Antara news agency, Boyke Ledy Watra, who was also on the plane told the Jakarta Post that "several passengers argued, occasionally nearly coming to blows, with flight crew members before deciding to leave the aircraft".
A cargo of pungent durian fruit caused an Indonesian plane to be delayed for an hour after passengers turned their noses up at the funky freight and refused to fly.
In April, the smell of durian rotting in a cupboard at an Australian university's library was mistaken for a gas leak, the Associated Press reported.
Some passengers even argued that apart from the unpleasant smell, they were also concerned by the extra weight on board.
The airline defended its decision to load durian on the plane but said that going forward it would investigate other methods of transporting the fruit to keep from disrupting passengers.
The durian is known for being one of the grossest-smelling fruits in the world-think "turpentine and onions, garnished with a gym sock", as one food writer has described it, per Smithsonian. "Many airlines do this", Sriwijaya Air senior corporate communications manager Retri Maya said in a statement to the Post on Tuesday.
In a video posted by one of the passengers, Amir Zidane, he claims there were three tonnes of durian that were removed from the flight to conform to the passengers' demands.
The plane flew to its destination of Jakarta an hour late.
The company then went on to say that it was normal practice for Indonesian airlines to carry durian in the hold, "as long as [the durian] is packed well and enclosed in the cargo according to standard operating procedure".
Eventually, they were all asked to leave the plane while the crew unloaded the durian.