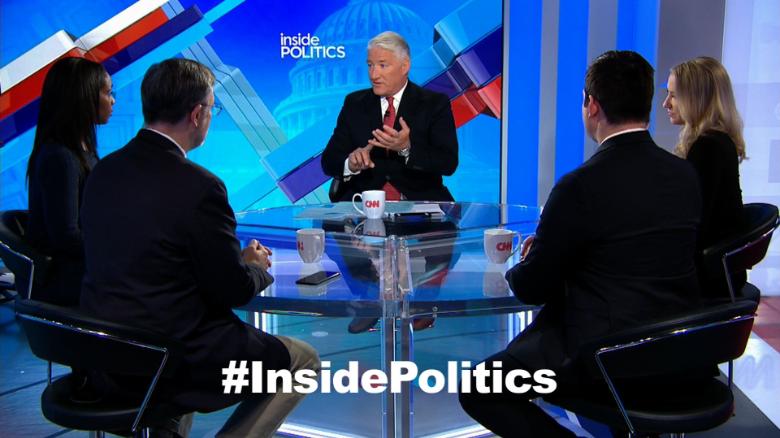 The new Trump ad is, inevitably, being compared to the notorious 1988 "Willie Horton" ad released by a PAC that supported the presidential campaign of then-candidate George H.W. Bush. Bracamontes, a twice-deported immigrant from Mexico, was sentenced to death in California for the 2014 killings.
The video - produced for the Trump campaign and posted by President Trump - shows Bracamontes grinning in court and threatening to "kill more cops soon".
The ad then shows footage of throngs of people knocking down fences, and cuts to Fox News footage of the migrant caravan from Central America that Trump has raged over in recent weeks as he seeks to energize his base before the midterms.
The video stood in stark contrast to an ad circulated by the Trump campaign earlier in the week that highlighted rosy economic numbers and depicted gauzy scenes of American suburban life. See Ad Age's coverage at the time: "Watch: Disturbing Trump Ad Calls Dems "Complicit" in Murders Committed by Illegal Immigrants."
Bracamontes was in the country illegally at the time of the shooting.
Retiring Republican Sen. Jeff Flake called it "sickening". Trump provides no evidence linking Democrats to Bracamontes. It includes scenes of a migrant caravan moving toward the USA, warning ominously, "Who else would Democrats let in?" and suggesting that more violence would soon penetrate the border. "Democrats let him stay".
In one example of his all-in play to his most loyal supporters, Trump issued a new attack on the 14th Amendment, which guarantees that even children born on USA soil to undocumented immigrants are American citizens, at a rally Thursday night in Missouri.
In a first reaction, Democratic National Committee Chairman Tom Perez said the ad was a sign of desperation and suggested that Trump was losing the argument over health care that is at the center of the Democratic campaign. With the rise of social media, campaigns and PACs that post ads on their social media accounts have brought a whole new grey area in town, according to experts.
Horton was serving a life sentence for murder in MA when he escaped custody after being temporarily released in a weekend furlough program.
But the Trump campaign was behind the January 2018 video, released on its YouTube page, that featured Bracamontes's courtroom appearance.
The previous year, Jessica Davis and Susan Oliver, the widows of Detective Michael Davis and Deputy Sheriff Danny Oliver, were invited to Mr Trump's address to Congress.