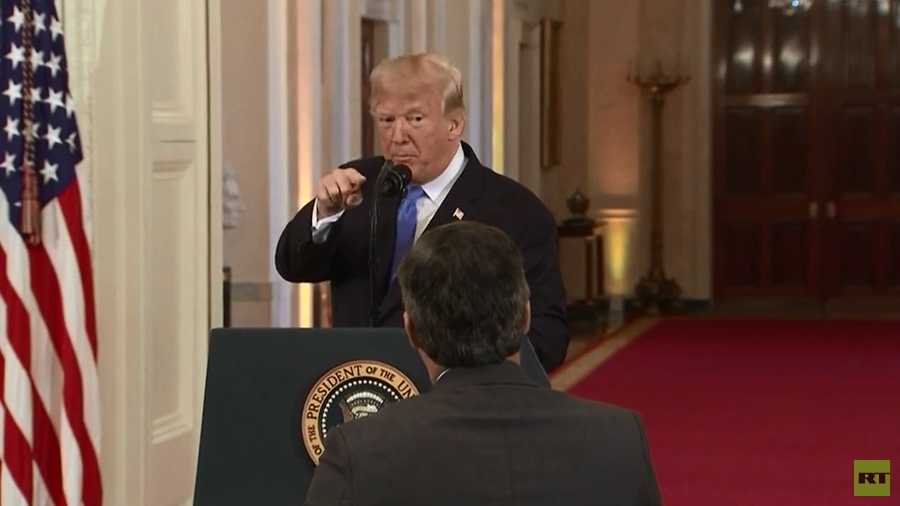 Trump tore into the journalist after he refused to sit down. 'Mia Love showed me no love.
"Very hostile. Such a hostile media". Acosta attempted to ask another question, which further enraged the president. "Excuse me, that's enough", as Acosta tried to follow up. I am not concerned about anything with the Russian investigation because it is a hoax. That's enough. Put down the mic! I'll tell you what, CNN should be ashamed of itself having you working for them. "It's a very bad thing what you said", the President said. The way you treat Sarah Huckabee is disgusting, and the way you treat other people are terrible. And the way you treat other people is awful. If i did, you people - you would have known about it. Trump lingered from his podium a few steps before returning to give Acosta an old-fashioned tongue-lashing. "When you report fake news, which CNN does a lot, you are the enemy of the people". This is a hot White House.'3.
Alcindor had asked Trump whether his recent embrace of the label "nationalist" emboldened white nationalists across the US.
"I don't know", he said.
"On the campaign trail you called yourself a nationalist", she asked. It went just about as well as you'd expect. After delivering prepared remarks, he fielded questions from reporters for almost 90 minutes on Wednesday, asserting the results marked a win for the GOP, defending his impact, and expressing eagerness to work on bipartisan legislation with House Democrats.
Yamiche Alcindor, a White House correspondent for the PBS NewsHour, on November 7 asked if Trump's use of the word "nationalism" at several rallies was meant to embolden "white nationalism". He covered the 2008 presidential race and frequently appeared on Ballot Bowl.
Meanwhile, President Obama had an 89 percent approval rating among black voters during the 2010 midterms according to Gallup.
CNN's Jim Acosta apparently decided the day after the midterms was a good day to make himself the story once again. He's dogged and determined and a credit to his profession.
Some Democrats in the House of Representatives, where the party now has a majority, have threatened to use the subpoena power they will gain in January to investigate Mr Trump and his administration's actions. While President Trump has made it clear he does not respect a free press, he has a sworn obligation to protect it.