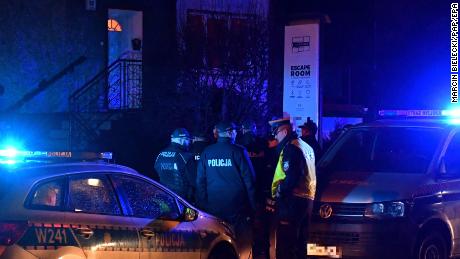 A fire broke out at the "Escape Room" game location, killing five teenage girls and injuring a man, authorities said.
A 26-year-old man employed at the location was hospitalised with burns.
The cause of the fire is known yet known.
Escape rooms involve locking players into a room, where they then have to solve puzzles and find clues in order to obtain a key to escape.
Asphyxiation is the probable cause of the deaths, officials said. There have been five victims, five young victims.
Firefighter chief Leszek Suski said the escape room at a private house in the city of Koszalin, where the girls died Friday locked inside a room celebrating a birthday, had no emergency evacuation route.
He also said that the bodies of the youngster were found in a room near the fire. Regarded as an intellectual challenge, the games have become increasingly popular among Polish teenagers in the past five years.
Police and fire brigade officers in Oswiecim, Poland, Friday, Febuary 10, 2017.
A spokesman for local firefighters, Tomasz Kubiak, said the units responding to the blaze had to use specialized equipment and force their way into the "Escape Room".
"Security was not ensured and that led to the tragedy", Suski said.
Poland's Prime Minister Mateusz Morawiecki vowed earlier on Sunday to close escape rooms that fail to meet safety standards after firefighters inspected almost 200 such facilities across Poland over the weekend.
Prime Minister Mateusz Morawiecki spoke after holding a meeting in which officials discussed ways of improving safety at entertainment venues.
Koszalin Mayor Piotr Jedlinski announced that Sunday would be a day of mourning in the city.
Polish President Andrzej Duda said the fire was an "appalling tragedy".