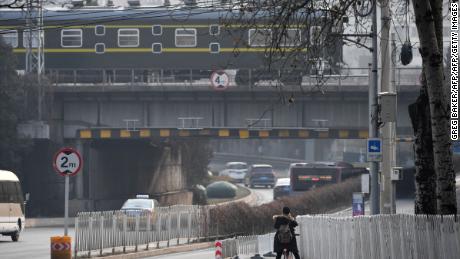 Chinese President Xi Jinping has told Kim Jong-un that Beijing supports a second summit between the North Korean leader and US President Donald Trump, adding that he hopes they "meet each other halfway", according to state media.
The report came as Kim returned to Pyongyang after a trip to China, where he held talks with Xi and visited an economic development area in Beijing.
At the daily Foreign Ministry briefing Tuesday, spokesman Lu Kang gave no details about Kim's schedule or China's role as an intermediary between the US and North Korea.
Kim could not be seen but the limousine he uses was observed zipping east down a main thoroughfare in Beijing on Wednesday.
North Korean leader Kim Jong-un and his sister Kim Yo-jong (red-dotted) wave aboard a train to Beijing on Monday.
"On Secretary Pompeo's visit to North Korea, we don't have any travel to announce at all", US State Department spokesperson Katina Adams said in response to Radio Free Asia's request for comment Tuesday.
There has been little progress made between the USA and North Korea since the historic Singapore summit in June - the first ever meeting between a North Korean leader and a sitting USA president.
North Korea wants relief from the multiple sets of sanctions imposed on it over its nuclear weapon and ballistic missile programs, while the USA wants them to remain in place until it gives up its arms - something Pyongyang has made no public promise to do. While there have been reports of easier inspections at the North Korean border, China has denied that it's relaxing pressure on the regime.
Each time Kim visited China previous year, US Secretary of State Mike Pompeo traveled to Pyongyang shortly afterward, but the US official seems to have no similar plan this time.
Xi has yet to visit North Korea since taking office in 2012.
The DongA Ilbo newspaper said that Xi hosted Kim at a banquet, which was held on the date believed to be North Korean leader's 35th birthday.
Kim, for his part, welcomed China's readiness to "jointly study and steer" the situation to help ease tensions, as well as the positive role Beijing continues to play in the negotiations process, KCNA said. "If he wants to shift his focus to the development of the economy, he needs China's cooperation", said Mr Lu Chao, a North Korea expert at China's Liaoning Academy of Social Sciences. Kim was accompanied by his wife, Ri Sol Ju, the news agency said.
Kim's visit coincided with trade talks between Chinese and USA officials in Beijing.
Kim's visit also comes after he expressed frustration in his annual New Year's address over the lack of progress in negotiations with Washington since the Singapore summit with Trump in June, saying that if things don't improve - meaning that if sanctions relief and security guarantees aren't in the offing -Pyongyang might have to find "a new way" forward.
Kim spoke with Xi for about an hour Tuesday night, discussing ways to strengthen their ties and lay out strategy for a potential summit between Kim and Trump on curbing Pyongyang's nuclear ambitions, Yonhap reported, citing unidentified people familiar with the talks.