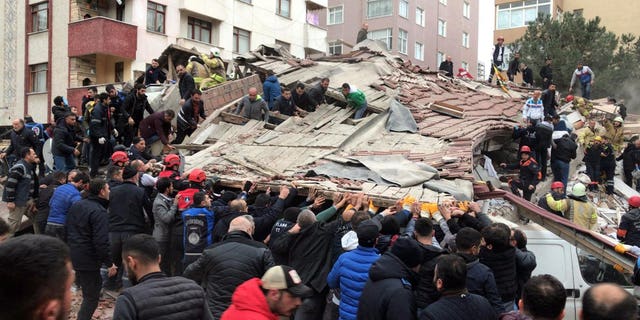 Murat Kurum, the minister for environment and urbanization, would not say how many more people are believed to be trapped inside the wreckage.
"We are focused on lives".
Rescuers work at the site of a building that collapsed in Istanbul's Kartal district, Turkey, on February 6, 2019.
It was not immediately clear how many people were still trapped in the debris of the building on the Asian side of Istanbul in the mostly residential Kartal district.
Reports suggest at least four people may be missing, and a number of cars were also buried in rubble.
Istanbul Gov. Ali Yerlikaya said Thursday the search for survivors would continue "uninterrupted". "I hope we quickly reach the wounded there", he added, expressing condolences for the accident victims and prayers that the injured recover swiftly.
The building had 14 apartments with 43 people registered as residents.
"Provincial authorities are in the process of identifying them and ... action will be taken against buildings that carry risks", he said.
'We rushed out as soon as we heard a loud noise.
Cevizli local headman Memiş Dikilitaş told Turkish broadcaster NTV that there was no explosion before the collapse, noting that the building, which was old, collapsed on its own. As the media look into the incident, it was discovered that the building's top three floors were built without proper documents and permit.
After the collapse, authorities sealed off the area as crowds gathered to watch or help with the rescue operation. It reported that Turkey's broadcasting watchdog declared that Istanbul's prosecutor's office had ordered the blackout and reasoned that the coverage will only hinder the investigations. Turkish television stations then immediately ended their live broadcasts from the scene.