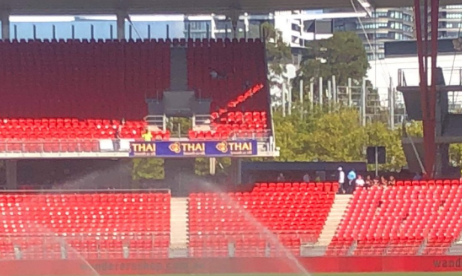 A football player and refugee whose detention in Thailand sparked an outcry will be freed after Bahrain withdrew its extradition request, officials say.
Director of the department's worldwide affairs section, Chatchom Akapin, said Bahrain had requested that the case be dropped.
Former Socceroos captain Craig Foster has been leading the campaign to free Al-Araibi, regularly jetting from Australia to Bangkok, while also visiting FIFA's headquarters in Zurich to discuss the saga.
Al-Araibi, who fled Bahrain in 2014 before being granted permanent residence in Australia, was arrested while on honeymoon in Bangkok in November. He has been living in Melbourne, where he plays for a semi-professional football team.
The footballer had been sentenced to 10 years' jail in absentia by Bahrain for alleged vandalism, but he denies any involvement.
Mr Araibi has said he was blindfolded and had his legs beaten while he was held in Bahrain previously. Bahrain has a Shiite majority but is ruled by a Sunni monarchy.
On Monday evening, Foster tweeted his thanks to Thai Prime Minister Prayut Chan-o-cha and his Government.
"We had a phone call from the Foreign Affairs Ministry this morning and they said Bahrain doesn't want him anymore", Chatchom told BBC.
Foreign minister Marise Payne said there were still "a number of steps to go in this process" but said al-Araibi would hopefully be back in Australia in the next day or so. "He is at grave risk of unjust imprisonment, torture and other ill-treatment if he is returned to Bahrain". She said "a great deal" of work had gone on behind the scenes.