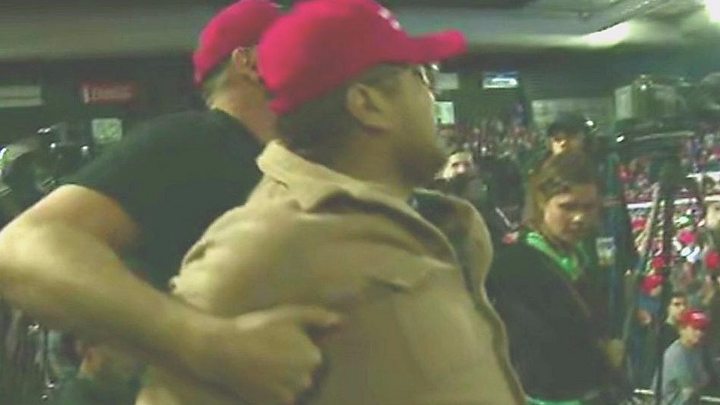 Sanders was encouraged to issue a statement by White House Correspondents Association President Olivier Knox, who said Tuesday that "The White House Correspondents' Association condemns the physical attack on our colleague at the president's rally in El Paso, Texas".
Shouting "f*ck the media", the Trump supporter at last night's rally blindsided BBC camera operator Ron Skeans with two hard shoves, Skeans says.
The man reportedly swore at the news crews and then shoved a cameraman.
BBC Washington correspondent Gary O'Donoghue, who was covering the El Paso event, said his cameraman was pushed and shoved by the unidentified assailant "after the president repeatedly goaded the crowd over supposed media bias".
Video from Skeans's camera showed it fall toward the ground.
According to a BBC statement, this time Trump "could see the incident and checked with us that all was OK".
The president had gone to El Paso to campaign for his border wall, an issue which resulted in the longest government shutdown in US history.
Last year, United Nations experts warned that Mr Trump's "strategic" rhetoric against the media "increases the risk of journalists being targeted with violence".
Trump has made hostility toward the media a feature of many of his rallies, where a metal barricade often separates his supporters from reporters.
Officials with the Trump campaign did not immediately respond to requests for comment.
Republican Sen. Ted Cruz of Texas and Donald Trump Jr., were also among the speakers at the rally, which focused on border security.
"It was an incredibly violent attack".
Eleanor Montague, Washington producer for the BBC, was also sitting in front of the camera with O'Donaghue and alleges other journalists were also attacked, though Skeans "got the brunt of it".
Former White House communications director Anthony Scaramucci condemned Trump's supporters at the Florida rally on Twitter, saying the behaviour was "not who we are". Trump has had a contentious relationship with reporters throughout his presidency and previously referred to the media as "the true enemy of the people".
Trump's 2020 election campaign will be as "hostile and ill-tempered and divisive as the one we saw last time", he added. He said the man nearly knocked him over twice before the assailant was wrestled away by another member of the media.