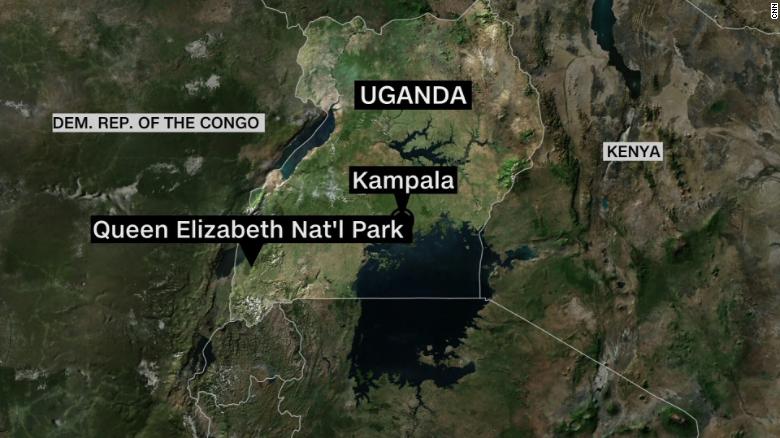 "They (the abductors) continue to use cell phones of the victims to call the lodge they were staying asking for $500,000 ransom, which we will not offer", Uganda Deputy Police Spokeswoman Polly Namaye said.
"The police have despatched an elite squad from the tourism police to reinforce the security teams at Queen Elizabeth National Park, to actively pursue a group of four unknown gunmen", Namaye said.
Identified as Kimberley Sue Endecott, and Ugandan driver Jean Paul, the duo were on a game drive at Queen Elizabeth National Park when they got ambushed by four gunmen on Tuesday evening, a police statement said.
Police ruled out a ransom payment, saying it would endanger other tourists in future, the Daily Monitor newspaper reported.
Uganda police's tourist protection force has also deployed a special response unit.
Four kidnappers stopped a group of tourists at gunpoint around dusk on Tuesday as they drove through the Queen Elizabeth National Park on safari to see wild animals.
Rights groups who led the protests to the country's parliament in Kampala city, said more than 20 people, mostly women, and children, were abducted for ransom previous year and called on the police to make these cases a priority. After several kidnapping victims were killed, activists left coffins in front of parliament in protest. "Security forces are responding to the incident", it said in a statement.
The U.S. embassy in Kampala had no extra information to offer.
The park, Uganda's most visited, is located about 400 km (250 miles) southwest of the capital Kampala, near the border with the Democratic Republic of Congo (DRC), which is home to many fragmented rebel groups.
According to a report from Uganda's Tourism Ministry, tourism is the country's "leading foreign exchange earner", bringing in $1.37 billion in 2016 alone.
Ugandan Ambassador to Washington Mull Katende stressed to The Post on Thursday that it is very "unusual" for a tourist to be kidnapped in Uganda, a peaceful country with a booming tourism industry based largely on its national parks and wildlife.
"Maybe we need to appreciate the fact that these people did not have a ranger guide, the time they went for a game drive".