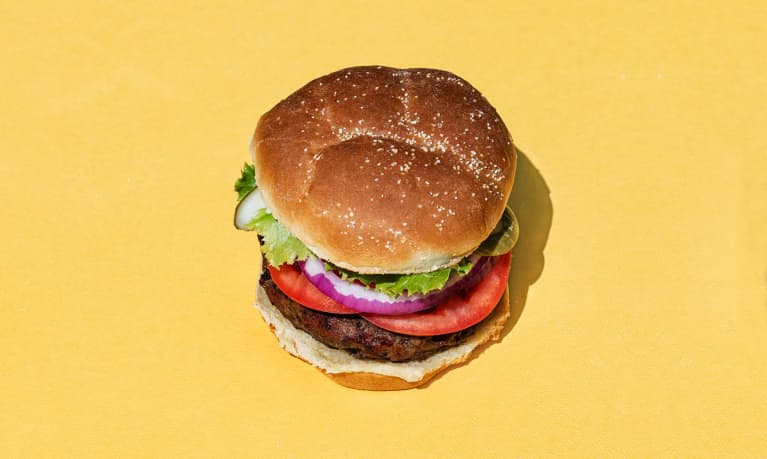 A burger chain wants to win over vegetarians. The product will be available in the chilled and frozen aisles of supermarkets throughout Europe, while Burger King's trial run is limited to 59 fast-food restaurants in St. Louis area.
BK's meatless burger contains patties made of heme, produced by the startup company Impossible Foods.
Burger King is helping to bring meatless meat into the mainstream.
Since 1 April, Burger King introduced a new Whopper that is identical in taste to the original, except that it contained zero beef.
And another one, yes, the king of not only the burger but of the surprise is at it again. It didn't taste any different even without the sauce, said Oberhuber after tasting Nestle's meat alternate products. The company uses an identical recipe to the other burger chain, which is based on the use of heme, derived from soybean roots.
The vegetarian, and especially vegan, market is fast entering the mainstream.
The chain has been trying to figure out a way to add a plant-based burger option to its menu for about a year, admitted Finazzo.
The Impossible burger will be prepared in the exact same way as the traditional whopper. Among their patrons are White Castle and Fatburger. Meanwhile, the US startup also plans on selling meatless burgers in supermarkets across the USA this year, reported sources. It's not a veggie burger, per se. The Impossible Burger is created to "bleed" like a conventional burger, thanks to genetic modification of a particular yeast that produces heme, the protein that closely mimics the flavor of meat. His main motivation were issues with the ethical, health and environmental costs of meat.
Impossible Foods was founded in 2011 by Pat Brown, a former Stanford University professor, who became a vegan soon after college and founded his company with the explicit goal of decreasing the world's reliance on animal agriculture.
For real, though. Burger King is going vegan, everyone. Nestle's new products are made from soy and wheat proteins, with plant extracts such as beetroot, carrot and bell pepper.