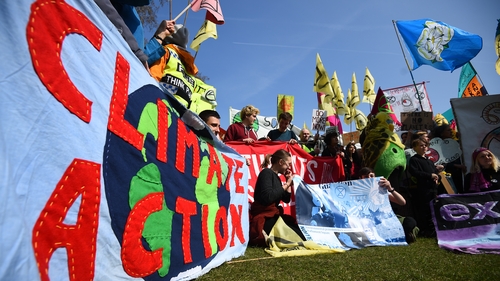 More than 50 climate change protestors arrested yesterday including some who were physically removed from Waterloo Bridge by police.
Led by the British climate group Extinction Rebellion, large crowds gathered in areas including Oxford Street, Marble Arch and Waterloo Bridge, in an attempt to force the government to act on climate change.
Protesters said they caused $7,800 in damage to Royal Dutch Shell's offices in London during demonstrations Monday.
At 12.30pm on Tuesday police said there had been 122 arrests in connection with the demonstrations.
Most were detained on suspicion of public order offences while five people were held on suspicion of criminal damage at Shell's headquarters.
Extinction Rebellion are demanding the government declare an immediate climate emergency and commit to reaching net zero carbon emissions by 2025.
It said protests would continue, with demonstrations in 33 countries around the world scheduled over the coming days.
There were loud cheers, the ringing of bells, and the blowing of whistles as people were quickly arrested and taken to police vans.
Environmental protesters have mobilized to take over five of London's most iconic locations, bringing streets to a standstill, with the aim of forcing the United Kingdom government to take serious action on the "global climate emergency".
Protesters stand on the Shell building during the Extinction Rebellion protest.
He glued himself to the pink boat at Oxford Circus, according to CNN.
Extinction Rebellion confirmed this morning that the group remained at four sites in London and claimed that two activists remained on the roof of Shell's London headquarters. We've got 12 years to act before there is irreversible damage to the environment and we start to see catastrophic changes.
The campaign cites as inspiration the civil rights and suffragette movements and is backed by hundreds of scientists and academics, including the former archbishop of Canterbury Rowan Williams.
They also carried trees, plants and solar panels as they blocked Waterloo Bridge, one of the five locations being targeted by the campaigners in London.
"We have no intention of leaving until the government listens to us", he said.