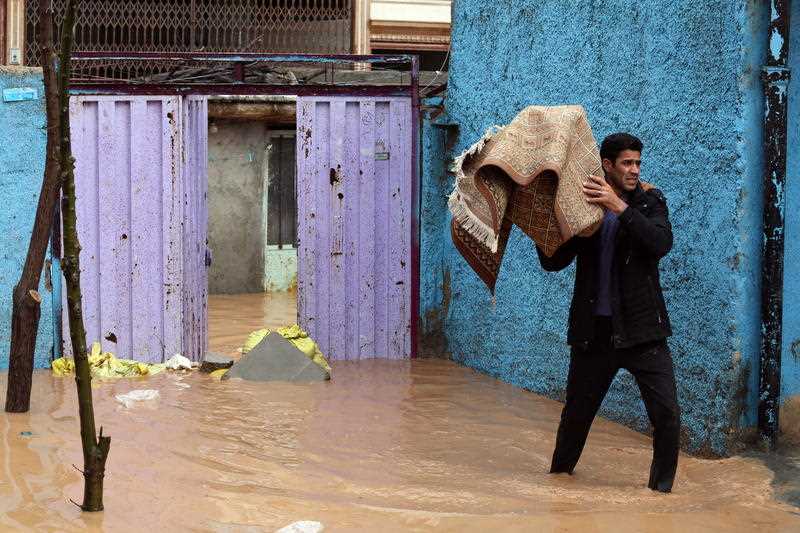 According to IRNA, the state-run news agency of Iran, 70 people have lost their lives in the recent floods that hit northern, western and southwestern Iran.
Six cities and towns along the Karkheh river needed to be evacuated at the earliest, Khuzestan's governor Gholamreza Shariati said.
Mr Shariati said emergency discharges from dams and reservoirs were adding to the high floodwaters, but such measures were essential to prevent the dams from overflowing or catastrophic breaches, with river waters continuing to rise upstream from the province.
Extremely heavy rain began on 19 March, affecting about 1,900 cities, towns and villages.
Interior Minister Abdolreza Rahmani Fazli told state TV that some 400,000 people are at risk out of the province's population of 5 million.
Around 70 villages in the province have already been evacuated in the past week.
"'Due to the illegal and unjust United States sanctions, in violation of UNSC 2231, global efforts to assist Iran have been seriously hampered and there has not been even a trickle of assistance from the UN relief agencies, some of whom have cited the USA sanctions", writes Afrasiabi in his letter to UN Secretary General António Guterres.
The government has promised that those affected, especially farmers, will be compensated for their losses.
On 25 March, the west and south-west were struck, with more rain in the same area on 1 April.
Fourteen deaths have been reported from Lorestan so far. Lorestan province was the worst hit then, with cities and villages cut off.
President Hassan Rouhani, whom critics have accused of mismanaging the response to the disaster, said on Wednesday the sanctions were also hampering aid efforts. Around 86,000 people are living in emergency shelters.
The head of Iran's elite Revolutionary Guards said the armed forces were "using all their power" to minimise damage.
Iranian drilling companies and other energy firms have been assisting rescue efforts in flooded areas, using pumps to remove water.
Iraq on Saturday shut Sheeb border crossing to both travellers and trade until further notice. The crossing, in Miysan province, is one of several with Iran.
The government said the flooding had damaged almost 12,000 kilometres (7,500 miles) of roads, or 36 percent of the country's entire network.